Skiing in Latvia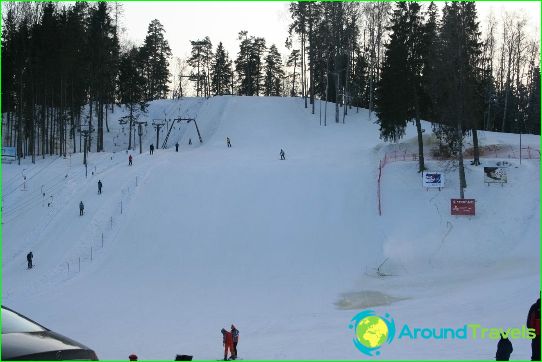 Not the most mountainous country, Latvia, however,It boasts some good skiing resorts, where infrastructure is well organized and runs a state characterized by a high degree of readiness. Skiing in Latvia - one of the most popular winter activities, and therefore the maintenance of the resorts in the order here given special attention.
The equipment and lines
The most popular ski resort in Latviaconsidered to be the Sigulda. It is located in the Gauja National Park and its trails are a mix of well-maintained, quality and excellent technical support. "City track" Sigulda stretches for 350 meters, and its main feature - the illumination that allows to organize night skiing. For snowboarders there is open fun park. "Kordestrassa" in Sigulda - a paradise for adventurers and pro - stretches for 275 meters and is especially attractive for those who prefer skating complex. "Reynyatrasse" not only offers slopes for skiers, but also riding on an inflatable sled and snow park with entertainment and attractions for the kids. In Sigulda you can rent ski and snowboard equipment and instructors to help the local school master the tools and learn how to do the first steps on the slopes.
Trails in the Gauja Valley differ particularly steepslopes. For example, Žagarkalns resort has to its credit a few runs, the most difficult of them - chetyrehsotmetrovaya Mountain Grind. For snowboarding in this ski resort in Latvia equipped fun park with jumps and boardercross track for training. Base Bailey in Valmiera - a great place for skiers and off-piste fans on the board. Where you can stay for the night with a lot of comfort - the hotel offers a steam bath in the bath and enjoy the best local cuisine.
Resort "Swedish Hat" offers cozy cottagesfor an overnight stay and a well-equipped tracks. Guests can dine at local eateries, and get to the starting place with the help of modern lifts. Only 120 kilometers from Riga, and athletes get to Sabile town, where all the conditions for a winter holiday in the "Swedish Hat". For those who have not yet mastered the ski, the resort has the opportunity to ride on a sled or make fascinating walks in the picturesque surroundings.
Activities and excursions
All ski resorts are located near the Latvian cities and towns, which allows to combine leisure with the excursion program.
Photos of the ski resorts in Latvia