Traditions Latvia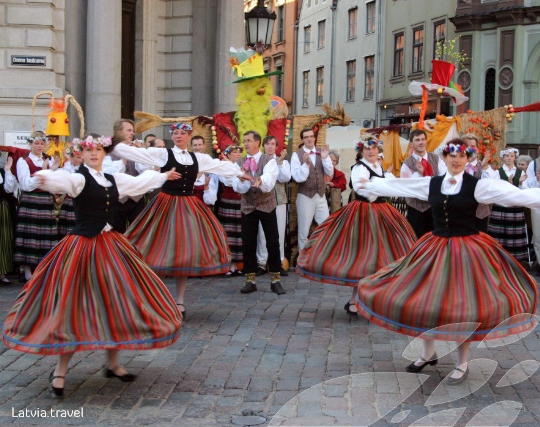 This small Baltic stateidentity manifestations enough. The list of national symbols Latvians are not limited to the flag, emblem and anthem, as in most other countries. By tradition, in Latvia there is a national of trees, flowers and even a bird - white wagtail. Ancient customs, festivals and ceremonies live well in the Baltic region with the modern pace of life, the more so thorough and unhurried Latvians carefully preserve them for posterity.
witches Sabbath
Traditional night during the summer solsticeLatvia called Midsummer. This celebration - the most favorite among the locals, and they celebrate it in full accordance with ancient traditions of Latvia. The courtyards are decorated with branches of mountain ash - in fact fly in the night on your Janov coven can watch unprotected home and live in it. Finding a fern flower and swimming naked in the morning dew - in the compulsory program or Yanova Midsummer night. Before dawn decided to sit by the fire and sing ancient songs and feast with beer and cheese to the coming summer it was fun and energetic.
Protopit you give me a bathhouse ...
An amazing legacy left old Latviangrandparents modern healers. The rich tradition of Latvia in the field of traditional healing is widely known in Europe, and its secrets passed down from generation to generation. Plants and spells, incantations and fumigation in the arsenal of the Latvian healer, successfully treated a whole list of diseases - many methods.
The most important procedure of healing - a black room,which is necessary to fire at least six hours. Hot stones treat colds and skin diseases, nervous exhaustion and weakness. In each of the Latvian countryside preserved such wonderful hospital, where under the supervision of experienced bath attendants, you can say goodbye to the illnesses and get cheerfulness and optimism.
Useful things
Latvian cuisine offers countrya unique opportunity to learn about the traditions and lifestyle of its inhabitants. Main dishes are prepared from vegetables, meat and fish. Be sure to try the cooked according to the traditions of Latvia steak, flavored with onion sauce and called "klops".
Latvians may not seem too friendly and terse. Sophisticated nuances of relations between the countries do not make the subject of conversation for any dinner table or during business negotiations.
Traditions Latvia prescribe to behave correctly and with restraint towards the interlocutor or companion. Their observance will spend an unforgettable vacation in dignity and comfort.
Photo