Water parks in Ventspils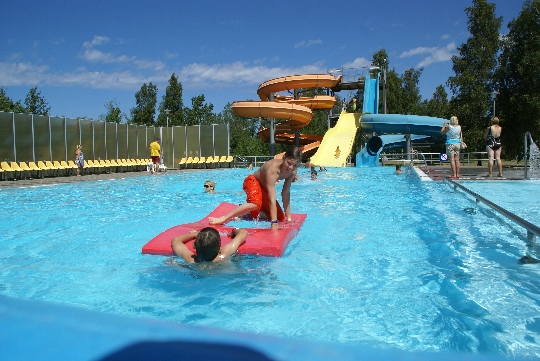 Travelers who are planning avacation in Ventspils, especially with children, should definitely visit the local water park (entrance is decorated with fish - flower arrangement), located in the open air (operating from May to September).
Waterpark in Ventspils
Waterpark "Ventspils" pleases visitors:
3 swimming pools with heated water (water is heated up to + 24˚ C) and artificial waves;
"Stormy River" (descent into the full flow of water), slide "Freefall", 8 and 10-meter tower with the "Turbo", family and standard slides;
children's area with water cascades and mushrooms, from which flows the water, and water attractions "Frog", "Keel", "Octopus";
SPA-area with sauna, salt room and Jacuzzi;
sunbathing area "Alpine Sun";
point equipment rental;
cafe "Lily".
In addition, there are regularly arrangedrecreational activities, in particular, music. The cost of staying in the "Ventspils" is very attractive - with adult vzimayut6 Euros / 1.5 hour, and with children (under 12 years) - 4.5 euros / 1.5 hours (over that time for every minute will have to pay 1 euro). As for the rental of towels, safe deposit box, ball, equipment for diving, each service will cost 1 euro.
Water sports in Ventspils
Your goal - to live in while on vacation in Ventspils at the hotel, a swimming pool? You make sense to book a room, for example, in hotel "Dzintarjura".
Going to the beach areas of the city, youYou find sun loungers and umbrellas, for gymnastics equipment, benches, swings, volleyball and basketball courts, changing booth, as well as be able to enjoy water sports (windsurfing in high esteem, as calm here - a rarity, almost always there are waves). As for families with children, they should be careful, because one has only to move away from the coast as the sea immediately gaining depth.
Guests of Ventspils offers to go on a boat trip on the boat "Duke Jacob" (accommodate 150 passengers), - they will be able to explore the city and the port, sailing at the mouth of the Venta River.
And at rest in Ventspils willa great opportunity to go on the lake Būšnieku - there is a real paradise for surfers (rehabilitated bridges), cycling enthusiasts (developed routes and cycle paths are convenient) and fishermen. On the lake you can swim and picnic (there are off-site locations), rent a boat for boat station to ride on Bashnieku.
Furthermore, for recreation, fishing and sailing, you can go to the lake Usma.
Photo