Zoo in Liepaja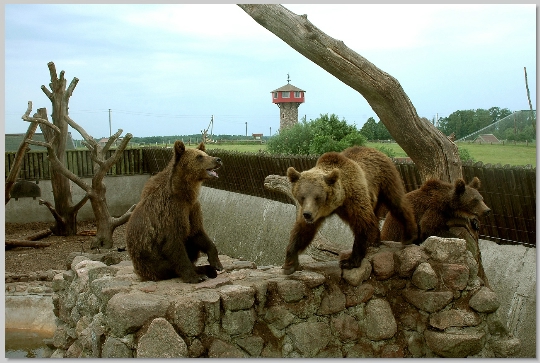 On the highway leading from the capital of Latvia in Liepaja,There is an interesting tourist site, where children - particularly always welcome guests. In the city of Liepaja zoo there, and therefore the closest to it, located in Kalvene parish, and is sometimes called Liepaja.
It was opened as a branch of the Riga Zoo, and 130 hectares are harmoniously and peacefully co-exist more than a hundred representatives of 40 species of wild animals and 12 species - of home.
Kalvene Zoo "Tsirule"
The history of the zoo in Liepaja, whose name -"Tsirule" - more familiar to local residents, began in 1993. Then the administration of the Riga Zoo was able to buy land here to place your pride - population Kiang. These solipeds horse family - bright representatives of the animal world of Tibet.
Pride and Achievements
Zoo workers in Liepaja are proud of theirprograms for the conservation and recovery of the population not only Kiang, but also mammals such as wolves, wolverines and lynx. In spacious enclosures comfortably settled moose and brown bears, vultures and owls, reindeer Finnish and Latvian Blue cows.
The park is very neat and well-groomed. There are special corners for the youngest visitors - swing, playground and mini zoo where you can pet goat or rabbit.
For older children and adult visitorsundoubted interest are the colorful information boards near each enclosure. They contain useful information about the animals, their habits and habits with drawings, diagrams, and interesting statistics. Stands are made in several languages, including Russian.
How to get there?
The exact address of the zoo - the 186th kilometer of highway Riga - Liepaja. In car navigation, enter the following information - Aizputes novads, Kalvenes pagasts, Ciruli, LV-3442.
Helpful information
Hours zoo in Liepaja depend on the time of year:
During the summer period from 1 April until 31 October it is open from 10.00 to 18.00.
In the remaining months of the zoo can be visited from 10.00 to 16.00.
The ticket price is 4 euros for everyone. Ticket offices accept cash and credit cards.
Amateur video footage and photos, visitors can do so without restriction.
Services and contacts
On the territory of Liepaja you can dine in the zoocozy cafe, the menu of which there are traditional Baltic cuisine. The dining room is located in an old stone tower, which is also equipped with a viewing platform. Gift shop offers a wide selection of memorable gifts for friends and acquaintances with company logo zoo.
Official Site not, but some details of the work and information about the services available in tourist portals of Latvia.
All the questions of visitors of the zoo staff are ready to answer phone +371 2938 69 63.
Zoo Photos in Liepaja