Airports Liechtenstein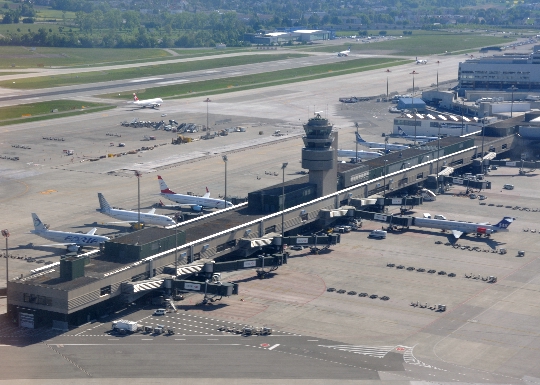 Royal Principality of Liechtenstein is so smallin size, which does not even have its own airport. In Liechtenstein decided to travel through the Swiss Zurich or air harbor of Basel and Bern. Regular flights "Aeroflot" performs daily at Zurich airport. There also fly from Moscow Swiss International Air Lines. Travel time is about 3.5 hours. With transfers from Russia to the capital of Liechtenstein can be reached by Air Berlin and Lufthansa wings, landing in Berlin and Frankfurt, respectively, and then replanting in Zurich on the bus to Vydutsa - capital of the principality.
Liechtenstein International Airport
Serving visitors and decided to travelcitizens of Liechtenstein Zurich Airport - the largest in Switzerland. The city where the airport is located, is situated on the shores of the lake and is a famous tourist and cultural center of Europe.
The airlines list, you can take advantage of whose services to travel to Liechtenstein - many well-known carriers in Europe and the world:
American Airlines, Delta Air Lines, United Airlines and US Airways fly from various cities in the US.
Austrian Airlines, Air Europa, Air France, Air Berlin, AirBaltic, Alitalia
Air Malta, KLM, British Airways, Brussels Airlines and Iberia Airlines connect the airport and Liechtenstein with most European countries.
Aircraft Emirates, Qatar Airlines, Etihad flying to Qatar and the Emirates, and El Al - Israel.
Infrastructure and Services
At the airport, passengers can Zurichuse different services for a pleasant waiting the selected flight. It opened many duty-free shops where you can buy not only the traditional alcohol and perfumes, but also authentic Swiss souvenirs, cheese and chocolate. In exchange points can be exchanged Swiss francs for dollars or euros, and car rental offices in the arrivals area - take the car and go from the airport to Liechtenstein by car.
Terminal A serves passengers arriving from countries bound by the Schengen Agreement, and domestic flights from Switzerland. In Terminal B receives flights from both the EU and from other countries.
All the details on schedules and services can be found on the website - www.zurich-airport.com.
Transfer to the Principality
Kloten Airport and Zurich is shared by 13 km, whichIt can be overcome with the commuter train. The station is located directly at the airport and can be reached by train to other cities in Switzerland. Following in Liechtenstein have to buy a ticket to the border Buxa or Sargans, where transfer to buses to the capital of the principality. Regional train from the housing to the Austrian Feldkirch should also be on the territory of Liechtenstein.
Photo