Vaduz - the capital of Liechtenstein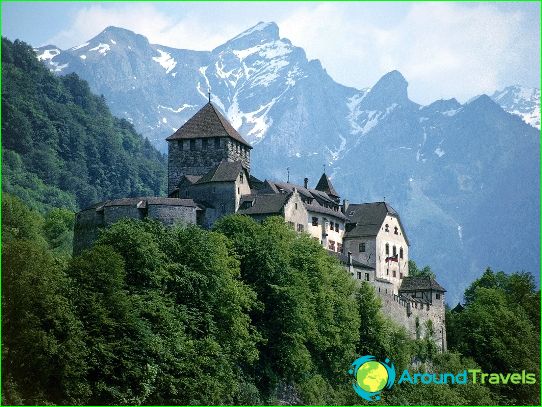 Liechtenstein's capital city Vatsul attractstourists with its rich history and lots of attractions. Vaduz is located in the upper reaches of the Rhine, not too densely populated city. Here live about five thousand people.
Vaduz Castle
Construction of the castle were in early timesMiddle Ages. He later restored and being completed several times. It belonged to old castle of Werdenberg-Sargans. Of greatest interest is the chapel of St. Anne, where almost original condition preserved in the altar of the Gothic style.
Unfortunately, to admire the beauty of the castle onyour request will not work. Since 1938, Vaduz performs the duties of the official residence of the princes of Liechtenstein. To visit the castle is open only on August 15, when the country celebrates its National Day.
Street Shtedle
That it should certainly add to their itineraryhiking through the capital. There is a huge number of the most interesting from the standpoint of the history of places and cafes, where you can enjoy a cup of coffee and rest. Be sure to pay attention to the building of the Municipal Assembly with magnificent sculptures adorning the bas-relief. It seems interesting and Postal Museum, which is a collection of stamps used in the principality.
Not far away is The English House,fulfill the role and office space, and sales areas. But today, there is stored a collection of paintings belonging to the princely family. With local history you will learn by visiting the National Museum. Here are stored clothes, furniture, weapons, ornaments of the ancient Celts. Interestingly the building also by the fact that once took in the walls of the great Goethe.
Cathedral
At the site where the church is, in the era ofMiddle Ages there existed an ancient temple. That is why the residents and decided to erect a temple here. After completion of construction the temple was dedicated Florina Remyusskomu - saint who was venerated especially in this area.
Neo-Gothic style, which was built the cathedral, fits perfectly into the surrounding landscape. Currently he acts as the official residence of the Archbishop of the Roman Catholic Church.
town hall
Here are the city council meeting. The opening of City Hall was held in November 1933. Construction took nearly two years. Architect F. advertisements appeared, a project that won the competition in 1932. And although the building belongs to the last century, but guess it is quite difficult. Visually, it is a typical structure, referring to the period of the Middle Ages. Unusually decorated and very courtroom. From the walls of the hall you look great princes of Liechtenstein, as well as the metropolitan mayors.
Photo