Airports in Lithuania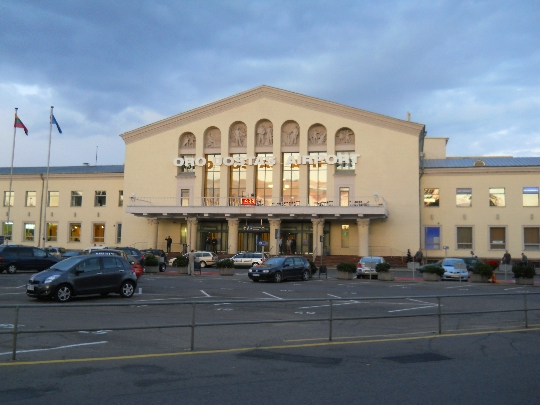 Three Lithuanian airport certified to work withinternational flights, but because for a flight from Russia is enough to choose the right direction. Direct flights from Moscow Vnukovo to Vilnius performs airline UTair. The journey time is less than 2 hours. Estonian Airlines offers Russian travelers to get to Vilnius with connections in Tallinn and AirBaltic - with a transfer in Riga.
International airports in Lithuania
international status have more capital in addition to the two air harbor of the Republic:
Lithuania Kaunas Airport appeared on the map of the countryin 1988 year. The city where the airport is located, - the largest tourist and cultural center of the country. The passenger terminal and the old quarters of Kaunas were separated 14 km, and to the capital from here - 100 km. Airport Website - www.kaunas-airport.lt.
Air gates of Palanga on the Baltic Seatake a short flight from Europe. South Terminal serves passengers from the EU area and the North - from countries outside the Schengen zone. Besides aircraft from Denmark, Norway and Latvia are Russian land seasonal charters "RusLine" from Domodedovo. Official website of the air harbor - www.palanga-airport.lt.
metropolitan area
The new passenger terminal in Vilnius Airportreceives regular flights from Poland, Germany, Austria, Belgium, Turkey, Iceland, Spain and many other countries. "Aeroflot" flies here from Sheremetyevo and "Belavia" - from Minsk.
Basic airline Lithuania Airport - Wizz Air,Small Planet Airlines and Ryanair, operating regular flights to Malmo, Barcelona, ​​Belfast, Glasgow, Tel Aviv, Rome, London, Stockholm and many more of the capital and major tourist centers of the Old World.
Check-in is available in the terminal by yourself with the help of modern equipment and can brighten up the expectation of flight in the duty-free shops or restaurant.
All the details on schedules and airport infrastructure available on its website - www.vilnius-airport.lt.
Transfer to the city
To get to the city from the passenger terminals offer taxi and public transport:
Palanga bus stop, next to the cityfrom the airport, it is located at the exit of the terminal. Scandinavian Airlines passengers can use the minibus, organized airline. In a rented car should move along the A13 motorway which connects Palanga Klaipėda - from the airport to the entrance to the city of 7 and 32 km respectively.
In the Kaunas airport by bus N29 and should express 29E. Tickets available from drivers. The stop is located to the left of the output of the terminal. A taxi ride takes about half an hour.
The capital linked to the Vilnius airportelectric, overcoming the distance in just 7 minutes. They arrive at the central railway station of the city. There you can sit on the bus, on the route "Train Station - Airport".
Photo