The streets of Kaunas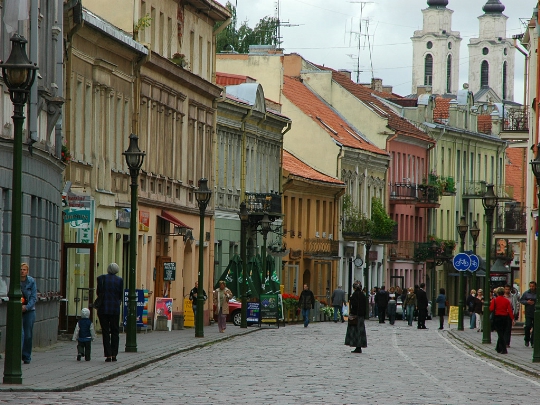 According Lithuanians themselves, Kaunas - is the "mostLithuanian "city in the country. The former capital of the Republic of Lithuania now takes second place in the list of the most important cultural and industrial center of Lithuania. It is attractive for tourists. First of all, Kaunas streets delight travelers an abundance of beautiful sights and extremely turbulent day and nightlife. In addition, the city is also booming and an extensive black market, so you can get almost everything your heart desires. In general, the ideal place for thrill seekers.
Tourists visiting this city, issuedspecial cards that allow to use public transport at a significant discount. So you can safely go into the jungle of the best, not being afraid that not enough money for the trip.
Laisves alley
The central street of the city. It is a pedestrian boulevard of about 1.5 km long, connecting the area Venibes and Nepriklausomibes. Today Laisves alley - a place where people come for recreation and entertainment, because here are concentrated the best in the city of bars, restaurants and nightclubs. However, the beautiful sights here too short, so I came here during the day, you can make a lot of good photos.
Vilnius street
Number two in the list of popularattractions. This pedestrian street is located in the center of the Old City by going here you can immediately go back to the XVI-XVII centuries. Low old mansions, cast-iron lanterns with glass bells, forged telephone booths - this place is unique and other such could not be found.
Street Aleksoto
It also has many places of interest for loversantiquity. Here is the famous Thunder House and Vytautas Church, which is one of the most visited attractions in the city. They have successfully survived the devastating wars of the XX century and today continue to fascinate tourists from all over the world.
V. Putvinskio gatve
In general, nothing unremarkable street, if notLocated here devils Museum, which is the hallmark of the city. The most famous exhibits of the museum - wooden figures of Hitler and Stalin, running across the field, strewn with human bones and marked with the words "My Lithuania".
Photos Kaunas streets