Kaunas Zoo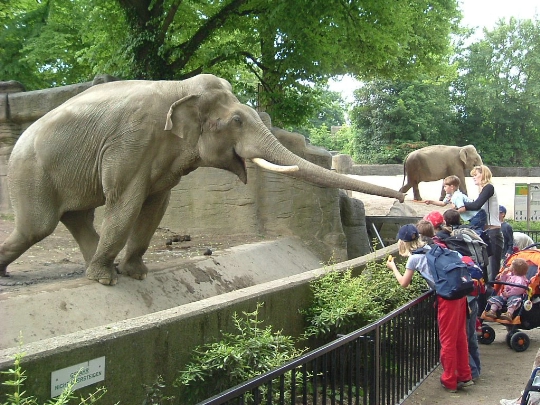 In 1935 Tadas Ivanauskas, famousLithuanian zoologist and naturalist who founded the zoo in Kaunas, which today is the only one in Lithuania. On an area of ​​almost 16 hectares are located more than 2,800 animals from various species, classes and families.
In spacious enclosures here live Australian kangaroo and reindeer, pygmy hippos and long-necked giraffes, barbary sheep and tufted capuchins.
Scientists Zoo in Kaunas are a lot of research work. In the park there are educational activities for children and open lessons of biology.
Lithuanian zoo
That's recently been known as a favoriteplace to walk Kaunas boys and girls, in love with nature and parking become veterinarians, handlers tigers and biology teachers in the school. Kaunas Zoo name associated with the townspeople and Azuolynas the park, which is translated from Lithuanian means "oak grove". It is a place where adults oaks grow, the largest in all of Europe!
Pride and Achievements
The main concern of zoologists Kaunas Zoo -newborn babies. Here offspring appears regularly in a variety of guests - golden pheasants and Egyptian flying dogs, Peruvian llamas and Siberian lynx, Canadian geese and Tibetan dragons. In February of 2014 in a cozy cottage born Australian kangaroo, whose birth were looking forward to both scientists and visitors to the park.
Liver Kaunas Zoo boasts no less. For example, a hippo Klopsu for 35 years, and Turaco bird crossed the 25-year anniversary, despite the fact that in the wild they rarely live and half of that period.
How to get there?
The exact address of the zoo, which will have to choose a car navigator, - Radvilėnų. 21, 50299 Kaunas, Lithuania.
Parking is free and located at the entrance.
If you prefer as a vehicle of public transport, the easiest way to use the bus routes 3, 10, 37 and 37N. The desired stop - ZOO.
Helpful information
Opening hours depend on the season:
In April and October, the park is open from 09.00 to 18.00.
From May to September - from 09.00 to 19.00.
In the remaining months the only zoo in Lithuania welcomes guests from 09.00 to 17.00.
Sale of tickets stops one hour before closing the object.
Feeding the animals and other special shows and events starting from 11.00 and finish at 15.30. A detailed schedule is on the zoo website.
Price per adult in Kaunas Zoo - 4.30 euro, children - 2.9 euros. Kids up to 5 years can pass to the park for free.
Make amateur photos can be freely in any part of the zoo.
Services and contacts
The gift shop sells postcards, magnets, mugs and other gifts to commemorate the visit to a corner of nature in the heart of the Lithuanian capital.
Official Site - www.zoosodas.lt.
Phone number +370 37 332540.
Photos of Kaunas Zoo