Airport Vilnius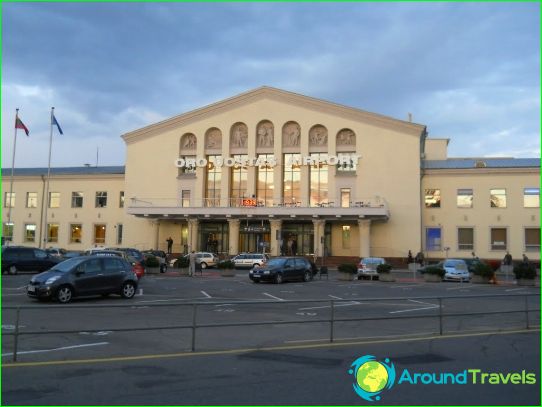 Vilnius Airport - the main internationalLithuanian airport. The airline is located seven kilometers from the city center, it consists of three terminals and serves over three million passengers a year, not counting turnover, which is about seven thousand tons per year.
More than twenty airlines in the world are cooperating withVilniaus oro uostas. Its main airlines are Wizz air, Air Baltic, Ryanair. In the season of Vilnius are regular charter flights to the most popular among tourists around the world. And in just one year from the airport are made by air travel and 75-lines.
History
The first flights from the airport in Vilnius weremade in July 1944. In October, the 54th was put into operation the first building of the airport was built on a plan of Soviet architects and D.Budrina G.Elkina, the so-called style of "Stalin's empire". Today it is passenger arrival area.
In 1993 it was launched a second airport terminal. And after Lithuania's accession to the Schengen zone, the fall of 2007, there was opened a third terminal. Now the airport has fulfilled all the conditions of the Schengen agreement and has received international status. The system of three-letter code abbreviations airport Vilnius Airport is listed under the code «VON».
Tools and Services
Modern and quite compact terminalsAirport offer a full range of services that meets the standards of the Schengen Agreement. More than eight hundred employees provide airport-established airline operation system.
It offers passengers comfortable roomsexpectations, free internet, numerous cafes, restaurants, shopping arcade and an area duty free. Work Information Bureau (including in Russian), post office, currency exchange offices, ATMs. Passenger service is always top notch.
Very simple navigation scheme. Everywhere there are signs of movement and schemes, besides the additional information can always be obtained at the information desk.
Transport
In just seven minutes to get from the airport to Central Station by train. Ticket cost 2.5 lats, train schedules can be explored on the website of the Lithuanian w / e.
From the airport to the city is constantly shuttle buses: №1 - to the central w / e. station and №2 - in the city center. Bus ticket costs 2 lats from the driver, and 1.8 lats at the kiosk at the station. Also, you can take a taxi, following along the same routes as buses.
Photos Vilnius Airport