Christmas in Vilnius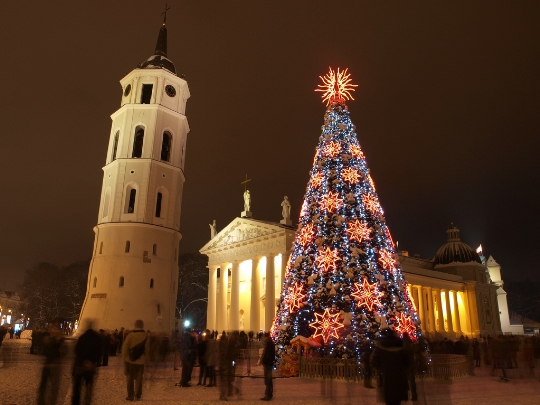 Christmas in Vilnius - it is an opportunity to tastetraditional food in local cafes, enjoy the ancient architecture in the city center to buy their favorite things in the shopping centers at attractive prices during the global Christmas sales.
Features of the celebration of Christmas in Vilnius
Christmas celebrations begin with Christmas Eve -Lithuanians in this day get up early - suggest the house clean and decorate the Christmas tree figurines of angels and straw toys. Christmas - especially family holiday, so meet up with friends and acquaintances Lithuanians plan until December 26 (they occur, to congratulate each other a Happy Christmas).
Christmas menu consists of 12 courses, wheredominated by fish dishes. Also preparing pea and bean dishes, soup of dried porcini and dumplings with poppy filling. As for tourists, they can go to a Christmas dinner at the restaurant "Senoji Trobele" (expected to hold a festive show program).
Entertainment and celebrations in Vilnius
Be sure to ride on the steam train Christmas - it runs through the city center in Christmas days.
By the Cathedral is come tolook at 4D-show "Magic Christmas" (Christmas tale is broadcast three times a day from 25 to 31 December on the wall of the cathedral through modern technology).
See Christmas vertepnoy composition can visit Cathedral Square (December 24 - January 6).
Guests of the Lithuanian capital is worth visiting at the International festive Santa Clauses race (26 December) - every year it is attended by pupils of sports schools, clubs and children's homes.
To go skating, you can go to the rink on Lukishki area (here you can rent skates and enjoy coffee and donuts).
Children and adults with the help of modern technologySanta Claus will be able to tell about their dreams and ask him their questions in a special conference held at a certain time in the Cathedral Square (Dec. 25-30 Santa Claus is located in the bell tower of the Department).
Going to Bernardine garden, you cana ride on the existing carousel, enjoy the dancing fountain, then participate in ongoing activities, enjoy mulled wine, look into one of the 6 trading houses.
Christmas Fair in Vilnius
In Vilnius the Christmas market can beget smoked and natural products, authentic souvenirs with Lithuanian accent (amber jewelry, knitted socks and mittens, pottery, baskets, glassware). In addition, it offers warm dishes of Lithuanian cuisine. Do not miss your attention and international charity fair at the Town Hall Square.
Photo