Vilnius District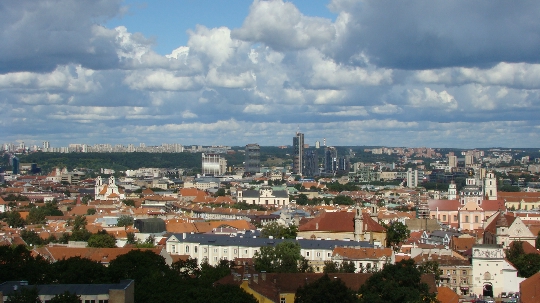 Acquaintance with a map will reveal thatterritorial districts of Vilnius Lithuanian capital divided into many parts - the historical part of the city, its suburbs and areas of new developments. Vilnius District are named Justiniškės, Zhverinas, Karoliniskiu, Antakalnis, Rasos, Pašilaičiai, Senamiestis, Žirmūnai, saw, Vilkpėdė and others. In total there are 21.
Description of the main areas and attractions
Senamiestis (Old Town): interesting Castle Hill (her lift is the funicular), Gediminas Tower (it is recommended to take pictures from the observation deck, and in the open here a museum - enjoy samples of weapons and armor, castles layouts and various archaeological finds), the Cathedral of St. Stanislaus (Cathedral - store frescoes, paintings 16-19 centuries and other works of art, descended to the ground floor, guests will get to the Museum of history), the Palace of the Great Lithuanian princes (to visit the open housing 2 of the National Museum), the church of St. Anne (the main façade - a reflection of the Eastern European Gothic architecture) .
Antakalnis: travelers will be able to explore the Palace Slushkov (interior decoration represented moldings, murals and Italian marble) and the church of St. Peter and St. Paul (has 9 altars, despite the rather simple appearance, inside the church is decorated with many exquisite stucco work). Those interested can visit the Antakalnis cemetery where prominent religious figures, and figures of culture and art.
Drank: has two lakes on the coast where you can relax, including - to organize a picnic.
Rasos: interesting Literary Museum Pushkin (exposure in the form of paintings, drawings, photographs, books, manuscripts, objects, introduces visitors to the life and work of Pushkin) and park Belmontas (where it is recommended to ride a quad bike or a horse, fly on a bungee, do research suspension bridges, relax in the gazebo or a cafe).
Karoliniskiu: famous Vilnius television tower (the height of the tower - 320 m; here, at 165 meters altitude, it is recommended to dine at the revolving restaurant "Milky Way") and part of the "Tales of the Park" (on its territory there are sculptures of fairy-tale characters from a tree).
Where to stay tourists
If you want to save on accommodation(A decent hotel can be rented for 30-40 euros / day) and going during the holiday travel by train or bus, you can stay close to the Railway Station (located next to the bus station).
Search for hotels close to the central streets(Pilies, Didžioji, Dawn Warta) should go to those who want to be close to the main walking routes (these streets neighborhood rich in attractions). In this part of town tourists may be interested in hotels "Grybas House" and "Hotel Domus Maria".
Pictures of Vilnius district