Entertainment in Vilnius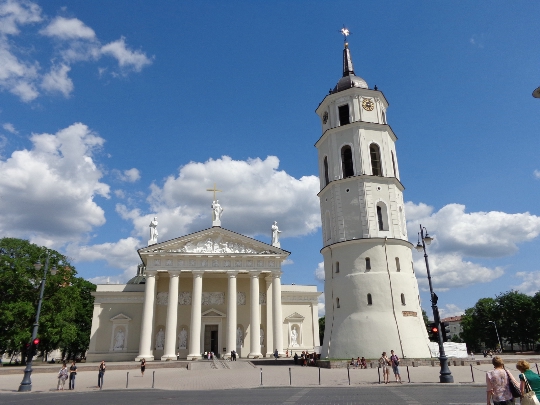 Entertainment in Vilnius - it excursions, walks through the beautiful parks, visit the bowling centers and nightclubs.
Amusement parks in Vilnius
"X-Planet": This family entertainment center you can visit the 5D-cinema, spend time carting circuit, climbing in school or on the playground, where there are stairs, mazes, slides, swimming pools with balls and play on the slot machines.
Park water "Vichy" entertainment: here visitors can have fun on the slides 8 and spend time in areas with saunas, different from each other climatic diversity ( "Fog Tahiti", "Tropical Heat", "Aoraki snow").
Park "Belmontas": here you can walk along the winding paths, relax in the cozy gazebos, to see black swans swimming in a pond, ride on horseback or quad biking, bungee fly, climb on the air bridge. Children will be able to have fun on the playground "Island Games" - they are here to entertain animators, offering children to take part in a variety of children's programs.
What kind of entertainment in Vilnius?
Not averse to ride a horse? Visit one of the equestrian clubs, such as "Prosperas" - necessary sports equipment can get to the point of hire. It is worth noting that if you want then you can order the crew to ride on city streets.
Identify themselves as extreme tourists? The resort offers to do bungee jumping - to make the leap to the Vilnius television tower (its height - 326 meters).
Do not think in your vacations without a pool? To play this game you will be able at the "Cuba-Vilnius".
In an unusual and interesting entertainmentIt is to explore the underground passages of Vilnius. So, you can descend into a dungeon outside Bokshto - you will find the entrance to the old bastion, which is built of red brick (according to legend, a ghost lives here).
From nightlife should look at the clubs"Pabo Latino" (guests are offered to dance to Latin music, and on Thursday - visit the free salsa lessons, which are conducted by professional teachers), "Exit" (entertainment program of this club is built on the performances of DJs, go-go-dancers and freak-show) and "Galaxy" (in this establishment regularly hosts concerts of world celebrities, fashion-shows collections show Aerodance - dance with acrobatic elements and fitness).
You want to take a ride on the rink at any time of the year? Visit to the town sports and entertainment center "Akropolis".
Entertainment for children in Vilnius
Toy Museum: here any child can see a lot of toys to play with almost any museum exhibit.
Energy and Technology Museum: there will be equally interesting as the little guests and their parents - they will be able to admire the various exhibitions and vintage cars. In addition, there is an interactive exhibition, where visitors to demonstrate the physical laws and phenomena.
Taste traditional Lithuanian dishes, visit the ballet and opera performances, concerts of classical music, disco - all this you can do on your holiday in Vilnius.
Photo