New Year in Vilnius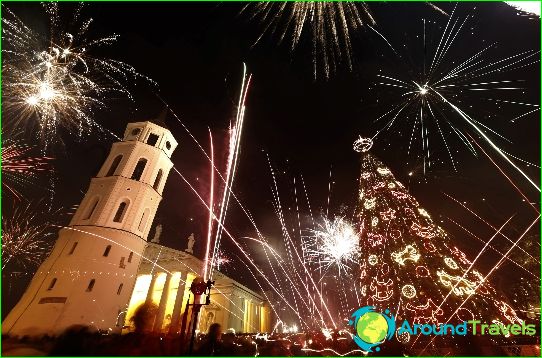 Every year thousands of people are scratching their heads over howspend the winter holiday vacation. They stormed the booking office and shop tours to distant countries and cities. But very close, it turns out, there are places where you can meet interesting holiday, informative and inexpensive. For example, to go to celebrate New Year in Vilnius - the city whose image of Christmas leaves all guests the most pleasant impression.
The biggest spruce for enthusiastic children
Lithuanians are ready to offer travelers notOnly gingerbread houses and luxuriously decorated area. Residents of the country are different special love for the holidays, and are able to transform a traditional little sleepy town into a kaleidoscope of Christmas surprises.
One of these gifts - the biggest tree inOld World, whose role is successfully carrying out ... Vilnius TV tower. Decorated with thousands of lights elegant Madame seen from either end of town. The traditional Christmas tree decorating in Cathedral Square, which is to begin acquaintance with the festive city.
Collection of architectural curiosities
On the main town square in the New YearVilnius is especially beautiful. All the buildings are illuminated and decorated with lights and priporoshit their light frost makes the picture unique and mysterious. The main cathedral - St. Stanislaus - erected in the XV century, but then appeared and Gedemin tower, which is considered one of the visiting cards of the capital. By the way architectural attractions Lithuanians are proud to include the churches of St. Anne's and St. Casimir, built at different times and in a completely different style.
For fans of the capital of Lithuania bohemian environmentHe prepared a special adventure. Their waiting area Uzupis, where artists traditionally settled. Today there are open galleries and small shops, cafes and authentic family restaurants in which you can join the art and taste not only the mulled wine or Christmas punch, but also enjoy some of the "heavy artillery" - these Lithuanian zeppelins.
Photos of the celebration of the New Year in Vilnius