Vilnius Viewpoints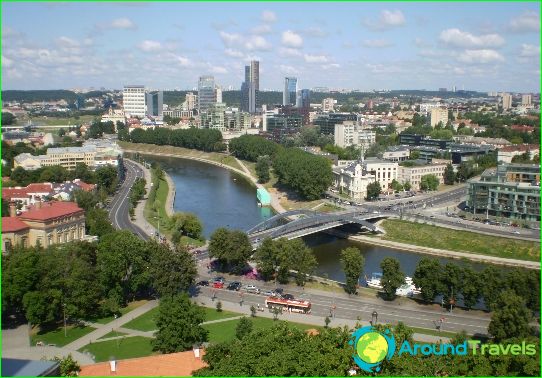 You have included in its program of rest on the riseviewing platforms Vilnius? Implement his plan, you will be able to look at an unusual angle Uzupis district, Dawn Gate, Church of the Holy Spirit, and other objects.
The observation deck at the intersection of Maironio and Subaciaus
Having found it, travelers can admireall of the old town, Gediminas Tower, St. Anne's church, and recognize what they see, they will succeed with the help of information boards, equipped on-site.
The observation deck in the shopping center "Gedimino 9".
To admire the views of the Old Town, it is recommended to visit the site for review at the 5 floor of the shopping center "Gedimino 9". Address: Gedimino prospektas, 9.
Tower of Gediminas
From the observation deck of the tower (its height - 20 m toIt is a staircase of 78 steps) guests can admire tiled roofs of the old town and the valley of the Neris River. The ticket will be able to buy at the entrance to the tower, breaking the journey on foot on the castle hill or rising up, taking advantage of the funicular.
How to get there? You can take the trolley number 3, 20, 4, 17,14 or bus number 88, 33, 89, 10 (address: Arsenalogatve 5).
Vilnius TV Tower
The building (its height - 320 meters) featuresrestaurant "Milky Way" in the 165-meter high (55 floor gives guests a lift for 45 seconds) - it serves as one of the best viewing points, and review at 360˚ (visibility - up to 50 km) opens due to the fact that the property is on a rotating platform. And at the entrance to the Tower is worth paying attention to the exhibition, which is dedicated to the tragic events of January 1991.
It should be noted that upon completion of the reconstructionbuilding, which is planned to start in 2015 (will take about 4 years), residents of Vilnius and guests will have the opportunity to visit an open observation platform. Panoramic restaurant can be visited from 11:00 to 23:00.
How to get there? Sitting on the bus number 16, 18 or 11, you must get off at "Televizijos bokstas" (Address: 10 Sausio 13-osiosgatve).
Hill of Three Crosses
At the monument in the form of three stone crosses (previouslythey were made of wood) you can find a site for review, where most of the peace will be possible to admire Vilnius, Tower of Gediminas in particular (to climb the mountain better than the path through the park Kalna).
Address: B. Radvilaitesgatve 12 (can be reached by buses number 44 and 33).
The bell tower of the church of St. John
Climb on the observation platform at a height of 45 meters will be able to overcome through more than 190 levels, but you can also use the lift (accommodates 4 passengers), if necessary.
Address: Sv. Jonogatve 12.
Photo