Prices in Vilnius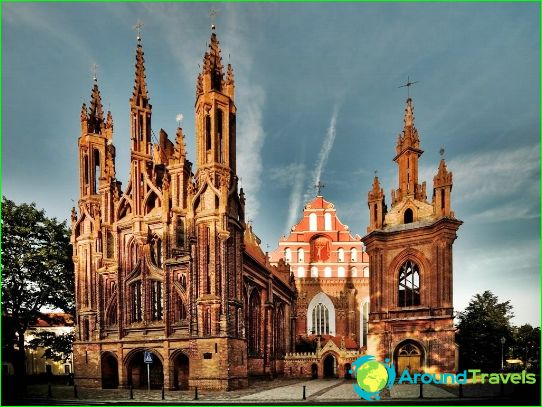 Vilnius - a beautiful city, which is the placetourist attraction. There is an interesting architectural buildings, old churches, museums and others. If you want to know what prices in Vilnius, read our review.
What money to take with you
Lithuania is a member of the European Union. Therefore, you can go to Vilnius with the euro and the dollar. Rubles are not popular with the Lithuanians, so the exchange rate is unfavorable. In Vilnius, you can easily exchange currency, as bank branches at every step.
Rental of property
Remove the two-bedroom apartment in the center of the Lithuaniancapital can be for 9700 - 20,800 rubles, the equivalent of 700 - 1500 LTL. The apartment is on the outskirts would cost 4150 - 5600 rubles per month. The Lithuanian hotels reasonable prices. Vilnius Each guest will be able to pick up a property, focusing on your budget. Holiday Inn Vilnius 4 * offers accommodation in different rooms from 75 euros. Rent a room in a five star hotel Narutis Vilnius can be for 150 euros per night. This hotel is located on the oldest street of the city, it was built in the XVI century. The 3 * hotel you can find rooms at 40 euros a day.
Excursions in Vilnius
The capital of Lithuania is divided into the old and new city. The ancient part is located castles, chapels, the Cathedral and other objects. Tourists visit the ancient capital of the country or the city on the water Trakai. To get on its territory can or LTL 12 170 rubles. Log in to the television tower in Vilnius are 300 rubles. You can visit Lithuanian National Park for 140 rubles., Lithuanian National Folk Life Museum at Rumšiškės for 138 rubles., As well as other attractions.
Dining in Vilnius
In the capital of Lithuania functioning institutionscatering, which offer dishes from different cuisines. Visit can be Italian pizzeria, French, Chinese or any other restaurant. Many tourists are interested, first of all, Lithuanian cuisine, which is considered a tasty and nutritious. The most popular dish is zeppelins (zrazy potato + different fillings). The restaurants serve national koldunay, pancakes with meat, cold soup, soup in bread, beer soup and other dishes. A large portion of the zeppelin for 1 person costs 12 litas.
transportation services
Tickets for travel on municipal transportsold at newsstands city. One ticket costs 25-28 rubles. The driver can buy a ticket for 35 rubles. A trip in a taxi for a short distance will cost 100 - 140 rubles, or 7 - 10 LTL. A ticket for the bus along the route Vilnius - Trakai costs 110 rubles.
Photo