Shops and shopping centers in Vilnius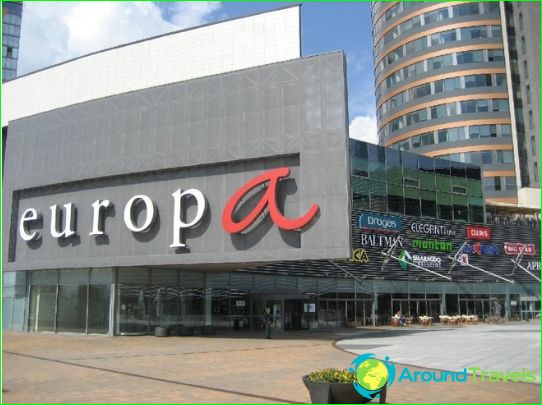 In the capital of Lithuania operates six majorshopping centers:. Ozas, Panorama, Europa, VCUP, Akropolis, Parkas Outleti etc. In addition, of course, there is still a huge number of small shops. Vilnius residents are so many outlets, even excessive. Neighbors Belarusians do not think so and pleased to come to Vilnius for shopping, as well as Russians.
Vilnius Old Town tourist pleases the eyebeautiful buildings of various architectural styles. It is very nice to enjoy a combination of magnificent architecture and beauty of the windows of boutiques Prada, La Perla, Maxmara, Hugo Boss, Zara, Mango, Armani, GF Ferre. In the Old Town are many souvenir shops where you can buy pottery, linen, towels and tablecloths, amber. Relax and enjoy Lithuanian food are invited to numerous cafes and restaurants.
Gediminas Avenue connects the Old Town and the bank of the Neris River. A variety of shops on this street is also enough to dedicate them all day. There are shopping centers and 9 Gedemino Flagman.
Popular shopping Vilnius point
Akropolis - the biggest shopping mall of the city. It offers products and entertainment for the whole family. His door is kept open boutiques Bershka, Cop Copine, Mango, Levi's, Esprit, Promod, Pierre Cardin, Zara, Next, Pull and Bear, United Colors of Benetton and others. The products can be purchased in the network hypermarket Maxima A of accompanying entertainment offer to visit the cinema , bowling alley, beauty salon, a point of catering, ice skating rink, and others. There are all conditions for a pleasant pastime. Children will be happy to play on a colorful playground, the Pope will sit in an internet cafe, while mom has been shopping for all households. Saturday farmers market is open around the mall, where you can buy cheese, cottage cheese and other products of the Lithuanian farmers.
Parkas Outlet - shopping center offers productsdifferent brands: Nike, Reebok and other sports brands, Eurokos, Parfum Express, Walking, Apranga and others with substantial discounts... Food presented supermarket Norfa.
Garyunay Market - open daily, exceptMonday, up to 14 hours. The market is divided into car parts and clothing. Here you can buy a variety of products at low prices. Special comfort in shopping, you will not find here, trade is conducted mainly in street stalls and so much depends on the weather. On the same street stalls selling coffee and pastries. Parking fee market.
Photos Vilnius stores