Tours in Vilnius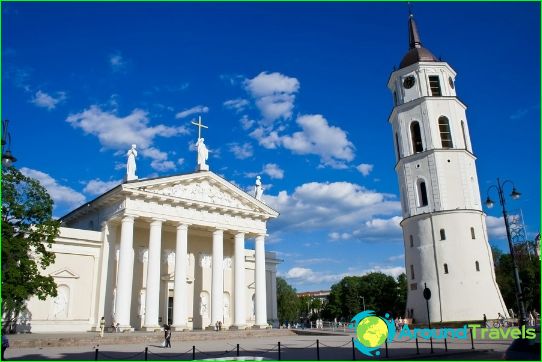 The capital of Lithuania is located in the south-east of the country inthe confluence of the Vilnia and Neris rivers. Capital status Vilnius was already at the beginning of the XIV century by the Grand Duke Gedemin. Today the Lithuanian capital - a tasty morsel for every tourist traveler, as its historic center is listed in the list of World Cultural Heritage by UNESCO. Tours to Vilnius and selected architectural antiques lovers and those who prefer cozy atmospheric Europe as an option for the Christmas holidays.
Briefly about the importance
Moderate continental climate and Vilniusa strong influence of the Baltic weather form with prevalence of cloudy days, and no small amount of precipitation. In winter, the thermometer often goes in the negative, not falling, however, lower than -10. Snow falls a lot, like rain in the summer. Early fall and late spring - a good time for tours in Vilnius. Precipitation is unlikely, and temperature values ​​are comfortable for extended hiking.
Begin tours in Vilnius are usually in the internationalairport, from where the city buses. To get to the capital of Lithuania, and can be by train or car. The city is best to move on the trolley or bus. Acquire e-tickets can be drivers and kiosks.
Fans of a healthy lifestyle and fightersecology have long chosen the bicycle as a means of transportation. During a tour in Vilnius, guests take a rented two-wheeled machines and use them to explore the city.
Vilnius Excellent attraction - the cable car to the top of Castle Hill. Apart from the pleasure of others species cableway carries a purely practical value - to raise tourists tower Gedemin.
Arrived in Vilnius for the Christmas holidays guests are given the opportunity to skate on the outdoor rink city, poured annually Avenue Gedemin.
Tours in Vilnius - a great opportunity to jointo the most popular museum exhibitions of the city. In total, the capital of Lithuania they opened about sixty. The most famous - Lithuanian Art and National Museums, and the most popular among the people - Adam Mickiewicz Museum, the KGB Museum and House Varnelis collector.
Being on tour in Vilnius, travelers with pleasure and taste the national Lithuanian dishes. The highlight of any cafes are usually the zeppelins, zrazy and unchanging šakotis cake.
Photo