Transport in Vilnius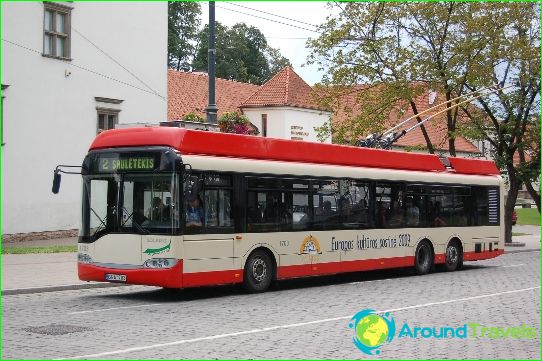 In Vilnius, the most popularbuses, trolley buses. It is these funds differ democratic price and can successfully navigate the city. In addition, in Vilnius operate taxis and city trains.
Most vehicles startswork at 5.00 and ends only at 24.00, and the exception is the only private taxis that can operate around the clock. Schedule weekdays and weekends is different, but it is always observed.
tickets
Tickets can be purchased at bus stops, at newsstands, as well as drivers. Buying a bus ticket will lead to unnecessary costs. For transportation of large baggage you must pay.
Tourists are offered a nominal Vilnius City Card, which has just a few possibilities:
It is possible to pay for public transport.
Many museum centers can be used free of charge.
You can take part in hiking tours in Vilnius.
It is possible to take advantage of discounts atorder bus sightseeing tours, bike rental, buying tickets for a concert in the calculation of catering establishments and staying in some hotels, buying souvenirs.
Buses, trolley buses, taxis
The bus network in Vilnius began to develop in1926. Currently, the city has more than 70 routes. Trolley line appeared in Vilnius in 1956. Now, this type of transport has 20 routes.
In Vilnius, you can use the suburban and intercity buses. It should be noted that good minibuses operate on the official routes.
Bicycles
For lovers of active lifestyleBikes are available for hire on the network Cyclocity Vilnius, which has existed since 2013. Necessarily need to buy a subscription and pay the rental for the selected period of time. Be prepared for the fact that the ticket can be bought only at four points Vilnius.
Taxi
Transport in Vilnius and presented a taxi whichIt is the most comfortable and expensive type. Giving preference to this option, you can be sure that will get to any place in the city for a short time.
Photo