Water parks in Vilnius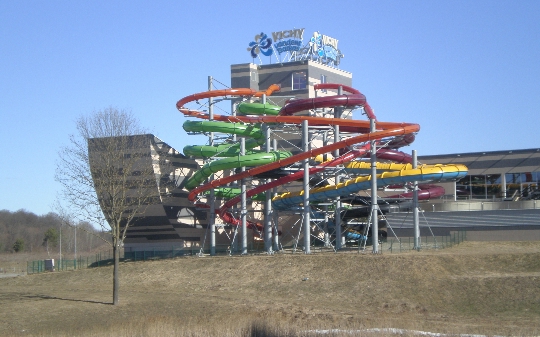 Arriving in Vilnius, you will have a great chance to make their own entertainment program for the whole day: you are waiting for saunas, water park, water attractions, beauty salons, spa-centers.
Waterpark in Vilnius
Vilnius You will enjoy a water park "Vichy" (it is made in the style of Polynesian exoticism), which is equipped with:
Attractions for adults:"Maori Yell" (works on the principle of the pendulum), "Snake Tonga", "Abyss Rapa Nui", "Fiji Tornado", "Cave Pitcairn". And after testing the strong emotions, you can spend time in the pool, "Sea dolphins" with artificial waves. It is worth noting that some of the slides is expected skating as 1- and 2-seater boats, and the multi-tubing.
Children's area "Island Games": Children will be delighted by the possibility to play pirates, shoot water cannons, to take part in fun games and contests (there animation team).
baths complex "Bora Bora" and "Lava" (Complexsauna, Russian and Turkish baths): Guests are waiting for 5 types of baths - "Drought in Hawaii," "Equator Rays", "Fog Tahiti" and others. After the steam bath, for sure, any interest the possibility of "cool" in the room "Tropical Rain" (you will be "pouring rain" to the sound of the forest and the sounds of birds) or "Snow Aoraki" (brings you to the "snow" room, where the snow " falls "from the ceiling, and which is supported -10˚ C) temperature. In addition, if you wish, you can look "East Island" in the massage parlor to enjoy a honeymoon, relaxing and anti-cellulite massage.
But before you start "testing" waterattractions, visitors are advised to go on a study trip in a canoe on the artificial river "flowing" through the "Vichy" (this will determine which attractions you might be interested in the first place).
Bars and restaurants: You will have to wait "Aloha" (in the menu of the restaurant presents Polynesian cuisine), "Alita" (quench thirst, including delicious cocktails can be in this pool bar), "Svyturys" (this bar is located in the bath area) and others. A water park is to look into the store "Honolulu market" - then they will be offered to buy Polynesian souvenirs.
The cost of a 3-hour visit to the entertainmentZone - 18/6 euro (adult / child), and the whole day will cost EUR 27/9. As for the 3-hour visit to the entertainment area + baths "Bora Bora" and "Lava", it will cost 21 € / person (full day - 27 euros). Important: Mondays water park does not work.
Water Activities in Vilnius
If you are interested in the opportunity to swim inpool, then you should look at the hotel with swimming pool - "Crowne Plaza Vilnius", "Vilnius Grand Resort", "Radisson Blu Royal Astorija Hotel", "Best Western Vilnius".
Resting in Vilnius, be sure to visitVerkiai Park - here you will be able not only to see Green Lake, but also spend time on the furnished on the banks of the beaches or go on a boat, and to go for a bike ride on trails around the lakes equipped.
Photo