What to do in Vilnius?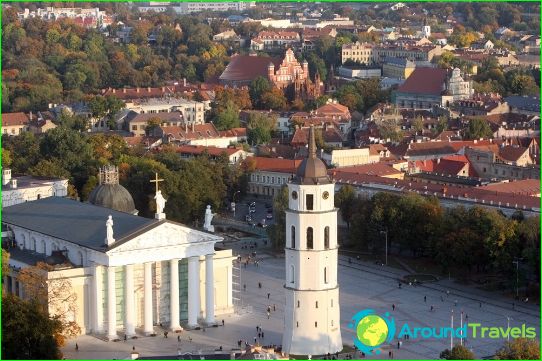 Vilnius is not only a green city, but also the treasure trove of architectural and historical monuments (the city is famous for its ancient churches, towers and mansions, for what it called "the city of the Baroque style").
What to do in Vilnius?
Walk through the medieval streets of the Old Town;
View of the ancient works (murals, paintings, tower, baroque chapel, museum) in the Cathedral of St. Stanislaus and Vladislav;
Make a wish at the stove, "Miracle", which can be found in the Cathedral Square (to desire fulfilled, it is necessary to step on the stove and turn around in a circle three times);
Admire the religious symbol of Vilnius - Three white memorial cross;
See Gediminas Castle;
Go through the amazing streets of Vilnius district - Uzhyupisa;
Take a walk through the Botanical Garden Zhelibera.
Things to do in Vilnius?
Start your acquaintance with Vilnius Old Town is at the heart of which settled the Upper and Lower castles, ruins of fortress walls, Gediminas Tower, Castle Hill.
The narrow streets of the Old Town will delight you with itscafes and small restaurants, open-air markets where you can buy works of local craftsmen and small shops, offering its visitors acquire handicrafts.
Fans of excursions should visit the Bastiondefensive walls, which houses a museum with a huge collection of ancient weapons. You can go to the Amber Museum, where you can listen to stories and legends about amber and buy souvenirs if desired.
The day program is to include a walk through the parks and in the evening - a campaign to nightclubs and bowling centers.
Active travelers will enjoy the entertainmentcomplex "Acropolis", where you can go skating on the ice rink (it works all year round). Ride on a horse, you can by going to the club "Prosperas" (here you can not only rent the necessary equipment for driving, but also to organize a trip through the city streets in a special carriage).
In Vilnius will find entertainment for the soul and the fans of bungee jumping. To their services - 326-meter-high Vilnius TV tower.
On the shopping is to go to the streets of the Oldthe city where you meet with boutiques of famous brands (Max Mara, Prada, Hugo Boss) and shops with affordable brands (Zara, Mango). A convenient place for shopping are the Vilnius trade and entertainment centers, which in addition to clothes, shoes, cosmetics, accessories, you can buy equipment, household goods, café, cinema, repair shops. So, you can go to the shopping centers Akropolis, Ozas, Europa, Panorama.
Hotels in Vilnius, you will not only get acquainted with the historical heritage of the capital of Lithuania, but also modern buildings and museums.
Photos you can go in Vilnius