Christmas in Lithuania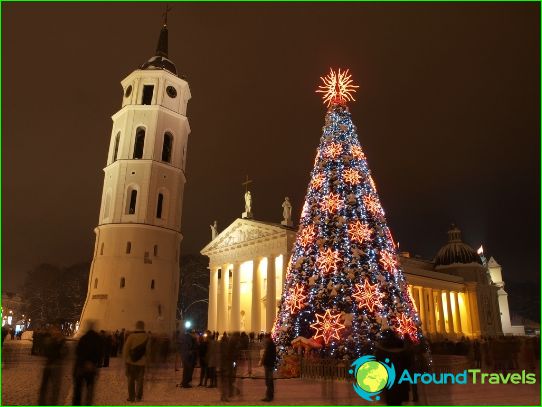 Baltic has always been for the Russiansmystery. Like ours, but almost abroad. Russian language is understood, but spoken with a beautiful accent. In the Baltic states to make a film "about Europe and America", and the famous amber was the object of desire of every fashionista. What if you go on the Baltic coast in the winter break and celebrate Christmas in Lithuania?
Kaledos and signs
"Christmas" in Lithuanian sounds "Kaledos", andmandatory attributes are not only the tree, gifts, visits to relatives and twelve meatless dishes on the table on Christmas Eve. , Vilnius considers it important Christmas tradition, a walk through the city, he built intricate medieval streets whose width is sometimes inferior to Fiat earlier models.
To get to the Old Town - is to go through the GateBrahma, were once the main gates of the city. Next - a chapel and venerated by Catholics and Orthodox Vilnius Madonna. The miraculous image of Our Lady of Mercy is different from the others ... the absence of the baby. Name iconographer known why he painted it that way - too. It is worth noting that this is a rare image, and therefore come to look at the icon of the hundreds of tourists who celebrate Christmas in Lithuania. Next to face hanging silver ornaments in the form of hands, feet, hearts. They bring healed, showing, thus, from an illness which they escaped. Miraculous Icon of the Vatican officially recognized even: it is decorated with a crown.
Life Old Town slowly flows aroundTown Hall Square. Festive sparkling Christmas tree and resembles a traditional Lithuanian cake šakotis and about the holiday eloquently tent, from which came the mouthwatering aroma of cinnamon and ginger. Syanis Shaltis and Sneguole - the local Santa Claus - smiling and wishing luck to the Lithuanian and Russian, a glass of mulled wine stretch the weary traveler. A highlight of the local low-alcohol program is a huge barrel with warm beer with spices.
Not souvenirs united ...
Christmas trade in the Baltic slowlyboils, and the end of the holiday sellers give the rest of the items for half the price. Then you can cheaply buy authentic souvenirs - mittens with national patterns, rings and amber bracelets with immured in his beetles spiders, 75-degree brandy "Zalgiris" for those who like it hot with smoked pig's ears for a snack, and the same cake šakotis that looks like on the Christmas tree. Then you can go for a holiday table and celebrate Christmas in Lithuania, a country so close and mysterious at the same time.
Photos of Christmas in Lithuania