Lithuanian Culture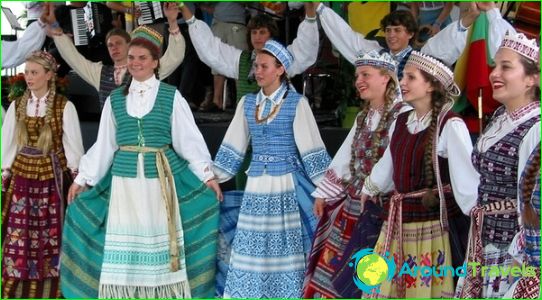 Despite all the historical and politicalwoes that shook Lithuania throughout its history, the country was able to form and preserve the unique traditions and customs, which tend to meet every year thousands of curious travelers. Lithuanian Culture - is the wide range of concepts: the music, the kitchen, and architectural monuments, and just the nature of the Lithuanians - thorough people, power, responsible and very hospitable.
Earth songs
Lithuania not for nothing called the land of songs, because itpeople are very musical. In every small town or village has its own choir and folk ensemble that not only speaks to the villagers, but also successfully participated in musical events neighbors and even international competitions. Speaking of the international cultural relations: in April in Kaunas regularly runs the jazz festival, which is visited by stars of the first magnitude to the most Sway planet. No less fun the audience gives a blues festival in Klaipeda.
May the festival of street music traditionIt passes in one weekend. In the urban area under the open sky out musicians who prefer direct contact with the audience. The program works and folk, and classical music.
City postcard
The list of UNESCO World Heritage listedthe old center of Vilnius. The architecture of the capital - is also part of Lithuanian culture, carefully preserved by its inhabitants for generations to come. Here are concentrated the buildings belonging to the most different architectural styles - classicism and Gothic, Baroque and Art Nouveau.
Central Vilnius - like a live guide,telling about the past and present of one of the most beautiful cities in the Baltic. At different times there Catholic and Orthodox cathedrals and museums, cozy hotels and shops were built. In the old town you can buy original souvenirs and gifts for loved ones and make the best photos for the family album in memory of the journey.
Folk art
Lithuanian Culture - it and its folk art,tradition which for centuries carefully preserved the country's inhabitants. Local craftsmen have made great strides in the pottery, the manufacture of jewelry with amber and pearl, wood. Lithuanian women have long been famous for its linen products, woven and embroidered by hand. At the fairs held in the cities of Lithuania, you can buy napkins and tablecloths, shirts, aprons, towels and blankets.
Especially widely celebrated in Lithuania Midsummer Day, when all over the country are organized folk festivals and local craftsmen present their creations to the public.
Photo