Entertainment in Druskininkai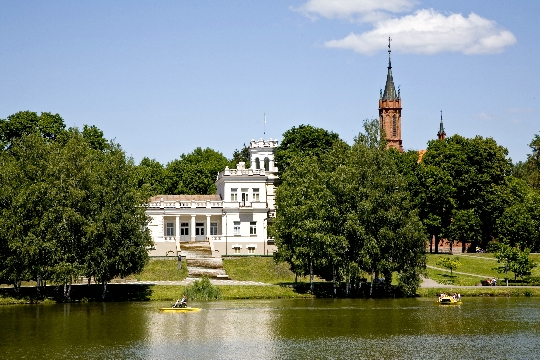 Entertainment in Druskininkai - is fishing (you can catch perch, carp, eels, crayfish), bright holidays and festivals, biking on the paved paths.
Amusement parks in Druskininkai
"One": This adventure park offers visitors pass along the route by the movement of one of the 9 tracks under the guidance of experienced coaches (routes laid on the branches and trunks of trees). For example, for children there is equipped with a "Yellow" and the track "Flight tarzanchikov", and for adults - "Green", "Red" and other tracks, including "Extreme flight Tarzan through Nemunas".
"Snow Arena": in the winter entertainment complex visitors will be able to go skiing (there are equipped tracks) and take snowboarding (snowboard park functions). If you are a beginner, this center offers to visit the ski school "Dru Ski School" - experienced instructors quickly and effectively teach all comers for skiing and snowboarding. It is worth noting that in "Snow Arena" you can use the lifts, rolling point, changing rooms and showers. As for the children, for they are opened amusement park "Dru Fun Park".
What kind of entertainment in Druskininkai?
You - an adherent of nightlife? Note nightclubs "Laguna" and "Dangausskliautas".
Resting in Druskininkai, certainly worthgo to the park "Grutas" - here you will find sculptures, monuments, busts repression regime figures, revolution period and the occupation time (there is a monument to Dzerzhinsky, Lenin, Marx, Stalin), award signs, posters, and other memorabilia, as well as taste the pudding, soup, buckwheat with meatballs and other dishes at the restaurant, made in the Soviet style.
Activities for Children in Druskininkai
Aquapark: kids here will be interesting to slide open and closed slides, spend time in a variety of pools and playground with a trampoline, inflatable slides, monkey bridges, and adults - go bowling, visit any of the many baths and saunas (they are equipped according to the traditions of different countries the world), to stand under the massaging waterfalls, swim in the "turbulent river" (the waves can reach 1.5 meters, so go with the flow is recommended for a special round).
"Forest Echo" Museum: large and small guests offered here to visit the parlor-timber houses (original exhibition halls), to see the exhibition of the work of craftsmen (as a background then use sounds such as the noise of the forest and the birds singing). So, here you will be carved figures in wood, amber products, exhibits blacksmithing items "black" ceramics ... In addition, here you can meet fairy-tale characters such as witches and gnomes.
Druskininkai offers its guests not onlyundergo health treatment, but also to have fun thanks to cultural and sports programs, as well as educational and entertaining activities.
Photo