The traditional cuisine of Lithuania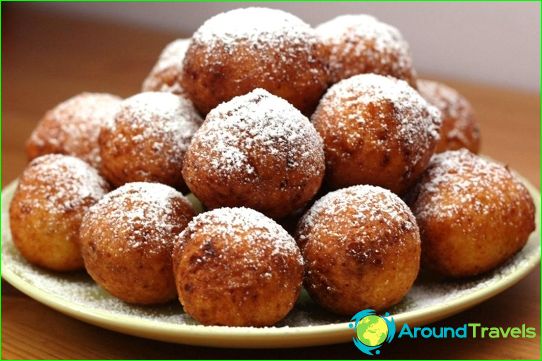 Kitchen in Lithuania is characterized by the fact that the quality ofthe country's food is very high: there is no shortage of natural and fresh products. In the menu of any Lithuanian restaurant you can find dishes of both national and European, and international cuisine (many restaurants offer visitors a taste of wild game, cooked according to ancient recipes).
Food in Lithuania
The basis of the Lithuanian diet are meat, fish,porridge, soups, vegetables, dairy products. Lithuanians favorite vegetable - potatoes: they boil it and eat with sour cream, milk and cheese, as well as make him potato pancakes and dumplings zrazy.
In Lithuanian cuisine was influenced by other Eastern European cuisine - namely, Belarusian, Polish and Scandinavian.
be sure to enjoy in Lithuanialocal cuisine - vedarai (potato sausage); cepelinai (dish of minced meat with grated potatoes); smoked eel; skilandis (smoked meat), kumpis (ham); zrazy meat from beef; goose, stuffed with different fillings (porridge with mushrooms, apples, sauerkraut).
Where to eat in Lithuania? At your service:
cafes and restaurants;
restaurants and rotisseries;
Fast food restaurants, bistros, cafes;
beer restaurants (besides the beer, then you can enjoy a variety of dishes).
Drinks in Lithuania
Lithuanians are a popular drink tea,coffee, soft drinks, kvass (it is prepared on the basis of herbs, leaves, honey, raisins), cumin water, midus (alcoholic drink based on honey) and beer, balms, tinctures, cordials.
Beer is so popular in the country, that it can bebuy on every corner. Moreover, in Lithuania of beer even prepared soups. If you - a beer connoisseur, try such local brands as Vilniaus, Utenos, Svyturys. If you will relax in Vilnius, visit the famous brewery Busi trecias (here can arrange a tour and tasting for you).
Gastronomic tour in Lithuania
Embark on a gastronomic tour in Vilnius, youvisit the restaurant "Noble Nest" - here you will taste the Lithuanian cuisine and local beverages, as well as visit the workshops where the story can be organized presentation of the Lithuanian culinary traditions and learn to cook some meals.
In the restaurant you will be served by waiters innational costumes that your arrival will be served on the table snacks - several species of herring and sausage, smoked pork ears, Lithuanian bread with garlic and cheese. For the main course will be served zeppelins (the chef will allow you to sculpt your own potato these works), and for dessert - the Lithuanian national cake with tea, infused with medicinal herbs.
If desired, you can go on a gastronomictour includes visits to the beer factory in Utena, to learn about the history of the drink, its production technology, and, of course, to taste this foamy drink.
Gastronomic tour in Lithuania - a great chance to appreciate the taste of local dishes and beverages.
Photos national Lithuanian dishes