Lithuanian Drinks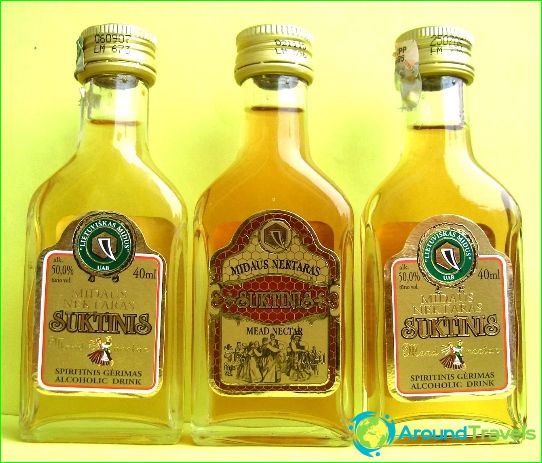 It is said that one of the main qualities of thisLithuanian - thoroughness. It accepted all the arguments to the end, building on the conscience and create the joy of themselves and their descendants. That is why the dishes of Lithuanian cuisine - hearty and simple, and the Lithuanian beverages - a true example of a quality product, which is not ashamed to decorate any holiday table.
Alcohol Lithuania
Like all European countries, Lithuania hascustoms regulations that restrict the import of spirits to one liter per person. Wine and beer can take with you twice as much, but it is much nicer and easier to buy Lithuanian alcohol in a supermarket, or enjoy the national colors at a local restaurant. The price of the most popular Lithuanian liqueur production was in mid-2014 of 5.10 euros per bottle, which is justified by the high quality of the product.
The national drink of Lithuania
With all the richness of choice of alcohol,Artwork by Lithuanian craftsmen, certainly worth a try is honey balm "Zalgiris", which is positioned as the national drink of Lithuania. His strength may seem prohibitive, because of as much as 75 degrees. However, it is surprisingly easy to drink balm, leaving a pleasant aftertaste of honey-mixed grass, and especially warms the body and soul during long walks in the Christmas or winter Vilnius Kaunas.
"Zalgiris" contains berries in its compositionjuniper and cranberry juice, it insists on the flowers of linden and recommended to add in coffee or tea, if pure national drink of Lithuania seems too strong.
Alcoholic beverages in Lithuania
Among the huge list of several groups can be distinguished alcohol in Lithuania, in each of which there are decent samples willingly purchased by tourists as souvenirs:
Honey balms submitted beverage «Suktinis», prepared with the addition of red currant juice, and cranberry «Du Keliai».
Mead was left, including the famous «Trakai» Natural honey, whose bitter taste is achieved by insisting on juniper berries and oak acorns.
Honey drinks whose sweetness shaded flavor of cloves, lemon balm, black tea and herbs, and stresses the importance of many awards of international exhibitions and fairs.
Alcoholic beverages in Lithuania can and should betaste, combined with the best creations of its chefs and confectioners, because each balm or liquor talented people came up with a special meal, supplied visitors with pride and hospitality.
Photo