Prices in Lithuania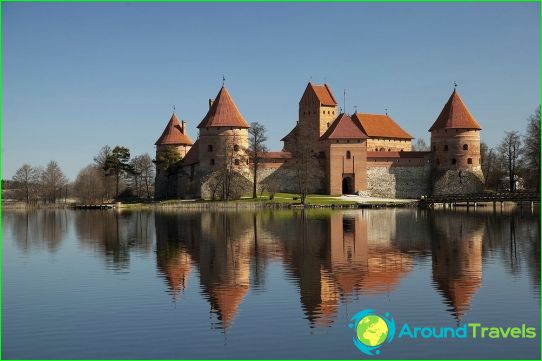 Prices in Lithuania is very accessible: there lovers of quality and inexpensive recreation.
Shopping and souvenirs
Going on shopping in Lithuania, you will pleasea variety of different products and low prices for them (to pay for the purchase can not only cash, but credit cards). Ideal location for shopping - Vilnius: the main street for shopping is Gediminas Avenue, where many shops and shopping centers such as the Gedimino 9 and Flagman.
What to bring from Lithuania?
Amber (cheap jewelry and variousarticles made of stone), ceramic products (ashtrays, plates, beer mugs), linen products (clothes, tablecloths, napkins), articles of hosiery and wool with traditional motifs (gloves, hats, shawls, knitted toys), glassware ( vases, earrings handmade glass flowers), crafts made of wood;
cheese, rye bread, Lithuanian cake "šakotis", smoked eel, mead (honey drink), herbal tinctures, liqueurs ( "Palanga", "Sokoladinis", "Dainova").
In Lithuania you can buy a cake "šakotis" for 8-18 euros, mead - from 2 Euro (depends on the volume and strength), products made of amber - from 30 euros.
Excursions
At the Review of Vilnius tour, you will walkthe Old Town, see the Cathedral, the building of the former Town Hall, the famous Gate of Dawn Chapel, Church of St. Anne. The tour costs about $ 30.
On the tour to Palanga, you inspect the main attractions, visiting the Botanical Garden, on the pier and in the Church of the Assumption of the Virgin Mary. The approximate cost of the tour - $ 15.
You may want to visit the Trakai (the ancientthe capital of Lithuania): you will visit the castle, where an exhibition of the finds of archaeological excavations. In addition, here you will see works of applied art of 17-18 centuries and artefacts of great Lithuanian princes. The approximate cost of the tour - $ 20.
If you are in Palanga, be sure to go to the Amber Museum - here you will find 4500 products from amber. Over the entrance to the museum you will pay around $ 4.
Transport
Getting around the city can be in the Lithuanianbus (one ticket costs 0.3 euros), taxi (fare costs about 0.5-0.7 euros), taxi (1 kilometers you will pay 0.2-0.4 euros). For multiple trips on public transport it is advisable to get an electronic ticket: the ticket price, the current 24 hours - 3.9 euros, 3 nights - 6.9 euros 10 days - 13.8 euros. Important: The card itself costs 1.2 euros, which can fill a certain number of trips.
The minimum on holiday in Lithuania costs would amount to about 35-40 euros per day for 1 person (accommodation in a good hotel and meals in a cheap cafe).
Photo