Lithuanian Resorts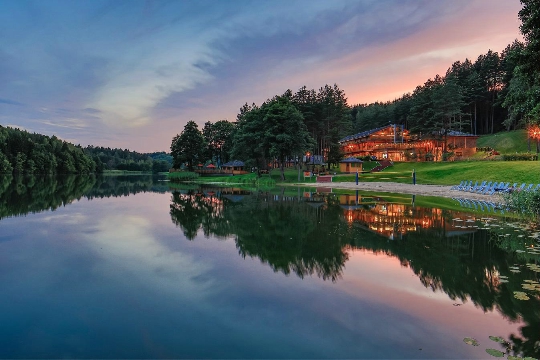 The Discreet Charm of the Baltic fully inherentand Lithuania. Inconspicuous at first glance, the dance in the bright tourist European neighbors, this republic is able to give a true delight gourmet thin-traveler. Under the low-key beauty of the Lithuanian resorts hiding many wonderful accents - from the natural attractions to the amazing masterpieces of local cuisine.
In the vastness of the Curonian Spit
The unique nature reserve, in the Curonian SpitLithuania - is the location of the most popular beach resorts. City Neringa - a paradise for fans of Baltic rural flavor. White sand dune beaches bordered by pine trees, the air is saturated with iodine and volatile production, and the pleasant climate allows you to bask in the sun for a long time, even those who are afraid extra freckles on his nose.
Fishermen houses in the village of Nida and Preilarestored and today offers guests as the seaside hotels and beaches all over the Lithuanian part of the Curonian Spit are equipped with the best European standards. In Lithuania resorts observed cleanliness, for which they have repeatedly honorary award for European values.
Pleasures of Palanga
This holiday village resort in Lithuania wasFor many decades, and his quiet provincial charm could save today. Palanga no noisy entertainment, time is flowing steadily, the air is clean, and wild ducks and swans in the botanical park is still taking the bread right out of hand.
In Palanga come with the whole family, with children andold parents, because the local climate and infrastructure provide a comfortable stay, even the most capricious and discerning travelers. And at this resort in Lithuania working balneological health resorts, where with the help of medicinal mineral waters and peat mud being treated for a whole range of unpleasant lung, gynecological and neurological pathologies.
On the water in Druskininkai
Pacific resort town was famousalready in the XIX century and has been on the waters know that wants to improve their health and to fix the nerves. Modern methods of treatment, complete with mineral water and healing mud can successfully deal with metabolic disorders, diseases of the locomotor system and respiratory pathologies.
The list of pleasant procedures offeredpatients Druskininkai resorts, is very large. Here and herbal baths and shower massage, water aerobics and wellness, and oxygen cocktails.
Photo