Shopping in Lithuania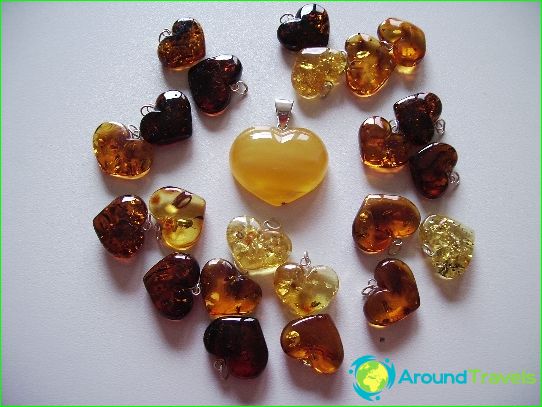 Souvenirs, who bring tourists from Lithuania - is amber, ceramics and culinary gifts.
Popular shopping
Pieces of amber you can gather on the beachafter a storm, and you can buy a well-kept - in the form of ornaments, handicrafts and souvenir shops. In addition, in the souvenir shops you can buy a nice looking and inexpensive costume jewelry, stone figurines, pottery, linen and knitted items, woven tablecloths.
Traditional gift from Lithuania - figure feature of the Museum of Devils in Kaunas. This character, in this case, is a talisman for good luck, you can buy it in any souvenir shop.
In Lithuania, delicious bread, if you decide to buy a loaf is better to do it in private bakeries - there is delicious, aromatic and fresh, and grades - set.
Lithuanian cheeses are considered to be good, the most popular - "Tilžė", "dumped", "Rokiskio Suris".
From tourists mostly alcoholic beverageschoose sweet liqueurs Shokoladis, Dainava, Palanga or a strong 70-degree brandy Zalgiris. Do not forget about the beer - Lithuanian «Svyturys» and to him - Clay beer mug with the brewery Juozas.
For the sweet tooth grab Lithuanian cake "šakotis" - from the dough in the form of trees, it is traditionally baked for weddings, it is hollow inside to fit a bottle of champagne.
Shopping centers
If you are traveling to Lithuania in May, is accessible atannual shopping marathon, which traditionally organizes a Vilnius shopping center OZAS. This mall features more than 200 world's most famous brands. Besides Hugo Boss, Mc Neal, Versace, D & G, Tom Tailor, Tommy Hilfiger, Seppala, Marc O'Polo, Calvin Klein, New Yorker, Takko Fashion Timberland, Deichmann, Reserved, Sportland, Douglas, Esprit and many others, and houses interior salons, shoe shops, bags and accessories, perfumes and cosmetics. Many cafes, cinemas, entertainment areas make this shopping center a favorite place for walking and shopping tourists and locals. During the marathon shopping at the mall OZAS discounts on all product groups reach 70%.
Not less popular shopping centers "Akropolis" and "Europa". In Kaunas a shopping center "Akropolis" converted textile factory space, it occupies 4 floors.
Luxury shopping and representative fashion housesGivenchy, CHLOe, Moschino, Nina Ricci, Sonia Rykiel are waiting for you in the mall "Vilnius Gates." It works around the clock and offers products to customers «Maxima».
Photos of Lithuanian goods, shops and markets