Activities in Lithuania in July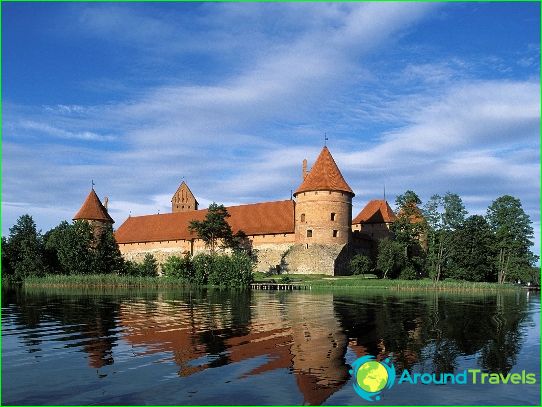 The top of the summer pleases every guest LithuaniaOf dry sunny weather, quite a comfortable temperature, a rich excursion program and all the entertainment and fun inherent beach holiday on the Baltic coast.
Undoubtedly, rest in Lithuania in July, will have on theliking of couples seeking romance, young parents who want to provide quality family pastime without tiring flight and abrupt climate change.
Lithuanian Baden-Baden
Lithuania has long been famous balneal resort, excellent service, extensive list of medical procedures and relatively democratic prices.
One of the best Lithuanian resortsDruskininkai is considered. Glory brought its healing springs and therapeutic mud, which is why tourists and comparing this with the famous Swiss resort twinned. The quality of treatment Druskininkai no way inferior to Baden-Baden, at cost - an order of magnitude lower.
In addition to the actual treatment, Druskininkai good for walks, it has a water park and a huge bath complex, which can introduce to the world the traditions of this important case.
Holiday Mindaugas
July 6, all in unison Lithuania celebrates the Daystatehood. In whatever city or turned out to be a tourist, he immediately appears a great opportunity to take part in the festivities. The roots of this important day for every Lithuanian leave a deep history. Major events related to the coronation of Grand Duke Mindaugas.
Modern holiday begins with a solemnflag-raising and the Mass in the Cathedral of Vilnius and then spreads through the streets and squares, big cities and small towns. Fairs, concerts, folk festivals have no end.
Traveling to Palanga
July, for more than any other monthRecreation in Palanga. This resort is in various Lithuanian tourist ratings first lines, attracting tourists from Germany, France, England and the nearest-neighbors countries.
Endless strip of beaches, relatively warmweather, without any temperature changes. Besides relaxing on the sea, there are opportunities to improve their health in sanatoriums, hospitals and spa centers. Leisure activities as hiking or cycling tour fit-fidgets. Huge botanical garden of Palanga and Inns attracts vacationers elderly, discos, pubs and dance halls will please young.
Photos rest in Lithuania