Taxis in Lithuania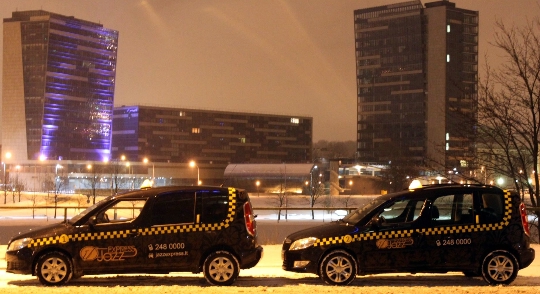 Taxis in Lithuania - a rather popular formtransport, using which you can get from one corner to the other countries, not to mention moving around the city. Taxi drivers are qualified and competent, having a great experience. In Lithuania, rarely found a taxi driver who had just sat down at the wheel of a car. Often, taxi drivers - drivers older than 35 years. Calling a taxi in Lithuania, it is possible to know in advance the cost of travel that you will take.
Features of the Lithuanian taxi
Contemporary Lithuanian taxi - it's good cars, equipped with air conditioning and other additional means of comfort. If you need the taxi company can provide services:
Guide, which will hold an interesting tour of thecity. The guide comes with a taxi driver, and will accompany you on the trip as long as necessary. Guide services can be paid for separately by prior arrangement or included in the cost of the trip at once, to make a call.
A comfortable transport children in the car seat. If you are worried about the safety of children during a trip, ask the manager to taxi was equipped with car seat for the child.
Contact the taxi companies, please call: Eurotaksi 2777111; 1465; Taxi 1 2444999; 1499; Etaksi 863344553 (+ SMS); Tanagros taksi 2444444;
trip Price
Ask in advance how costs will be assessedtrip. If the machine is equipped with a counter, then you have to pay as much as "drip" on the device. Since you never take more money than has been agreed in advance or more than the counted counter. In Lithuania, for it is strictly monitored. If you stop a taxi on the street, then the cost will be higher than that which you call on the phone. By the way, it is very easy to do with a mobile phone. For 1 kilometer you will need to pay about 1 euro, bargain to this you pay 1-1.5 euros for the supply of the car. If taxis - Luxury and Ultra-comfortable, then you will have to pay already for 2-3 euros for 1 kilometer.
Almost every car has a taxi terminal,through which you can make a payment using the card. Still, check before the trip, whether the taxi driver will be able to accept non-cash payment, or it is impossible. Taxi drivers - people are polite and cultural, always willing to help with luggage or carry-on baggage. Taxis in Lithuania is considered to be really convenient means of transportation.
Photos Taxi in Lithuania