Tours in Druskininkai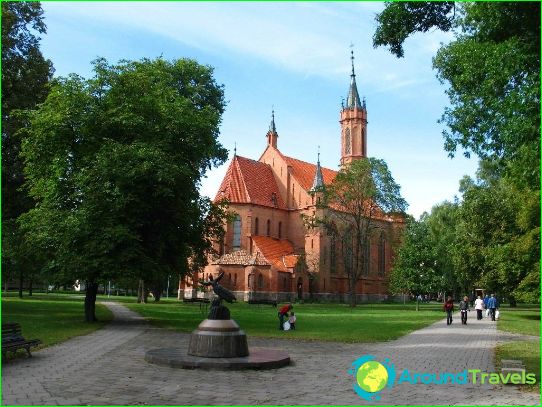 The best Lithuanian resort of Druskininkai spreadon the banks of the Neman river in the south of the country. His reputation as a balneological and mud resorts developed in the XIX century, when the healing power of local waters have been the subject of the report by Professor Fonberga Tsar Nicholas I. Since then, things to do in Druskininkai "on the water" were not less common than a trip to Baden-Baden or Kislovodsk.
Climatic subtleties
As is always the city and its surroundings pleasantcool. Here, even in the midst of the summer season it is rarely hot, and frozen at 22 degrees the thermometer - business as usual. The winter in the resort is mild and frost below -10 again - a rarity. The best time for tours in Druskininkai is difficult to determine, because the spa center, where you can improve your health and mood, open all year round.
The spectrum of diseases, which helpmanage local doctors, very extensive. In spas treat obesity and help to feel better in patients with diabetes mellitus. Lungs and heart, blood vessels and digestive system also will not be neglected the Druskininkai doctors, services and recreational activities prices seem pleasant and profitable differ from those in the Czech, Hungarian and Slovenian health resorts.
Briefly about the importance
Having reached or take the train to Vilnius, participants tours in Druskininkai transplanted to the bus departing from the central station of the capital more than ten times a day.
Getting around the city will have to take a bus or a taxi, which cost of services is quite democratic.
The main therapeutic weapon doctors Druskininkaisanatoriums - chloride mineral water. Not considered to be less useful therapeutic peat and mud. The range of hospitals - pearl and turpentine baths, massage and application of healing mud, oxygen cocktails, aromatherapy and water aerobics.
Diversify leisure excursions to local helpnatural and man-made attractions. For example, Dzūkija National Park has collected on its territory more than a hundred species of plants and animals listed in the Red Book.
Well, you can spend time in the House-MuseumMikalojus Ciurlionis. In addition to the permanent exhibition of his works in Druskininkai tours participants can attend the summer music nights in the former home of artist and composer.
Photo