Tours to Palanga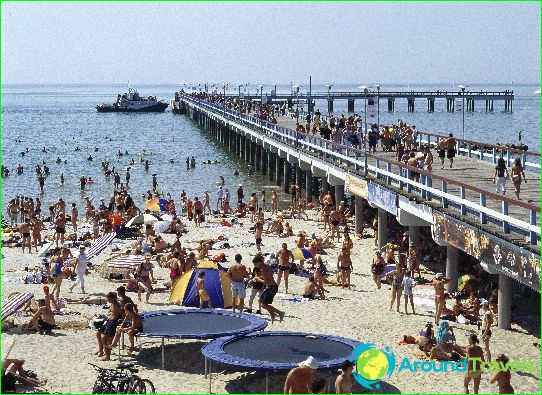 Amber necklace on the arms and white beaches -Lithuanian symbols of Palanga, sophisticated and beautiful of the Baltic resorts. Rest here was prestigious at all times. For Baltic Soviet man always seemed something almost inaccessible, almost foreign, and therefore battered tours in Palanga only elected lucky. Today Lithuanian resorts beaches resting more and more Russian tourists, and the prestige of the resort is growing from season to season.
History and geography
A little more than three hundred kilometers of excellentPalanga highway alienate from the capital of Lithuania. The resort stretches along the coast of the Baltic Sea more than twenty kilometers, and its main treasure - white beaches, fringed by pine groves, and endless sand dunes, easy to ringing in the strong winds of the Baltic. The air here is very special, healthy. He is full of volatile sweet smells of pine trees and sea iodine, and because participants tours in Palanga always celebrate feeling better.
Palanga first mentioned in chronicles in 1161. According to ancient legend, he lived here Biruta, who became the mother of Vytautas the Great, ruler of Duchy of Lithuania. The main occupations of the population up to the nineteenth century were fishing and collection of amber. Palanga resort history began in 1880, when the city opened its first hotel and restaurant, and then - a clinic for patients with diseases of the joints.
Briefly about the importance
From Vilnius, where Moscow fly direct flights,you can reach Palanga by bus or train to Klaipeda, and from there - by taxi. Train Moscow - Vilnius is also available, and the journey it is about half a day.
The resort is open and a number of spa centers intour to Palanga owners can participate in any of a variety of wellness programs. Baths with sea and mineral water, curative mud wraps, massages and inhalation - local doctors and beauticians work wonders together and achieve considerable success with patients to prevent and treat dozens of diseases.
The beaches and the climate is ideal all Palangacategories of tourists. You can not be afraid for the delicate skin of the child, as the sun in the Baltic States is very soft and gentle. Older travelers will appreciate the comfort of hotels and perfect service in the restaurants and shops.
The best time for tours in Palanga - the middle and the end of the summer when the water warms up to +23 Baltic, providing opportunities for a comfortable swim.
Photo