Lithuania Traditions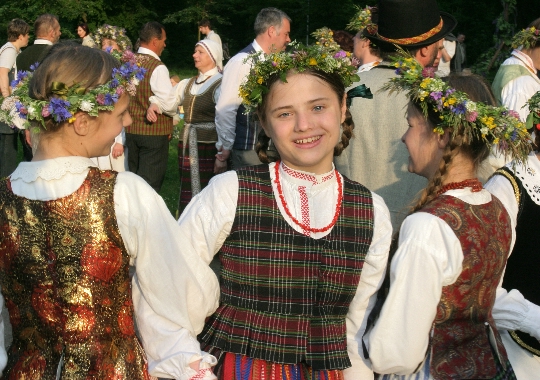 Like other Baltic residents, Lithuaniansdetailed and terse, correct and polite, a little slow, but very punctual. When dealing with the inhabitants of this Baltic republic, you can be sure that the obligations undertaken by it to perform in the best possible way. All traditions of Lithuania in one way or another connected with the earth, because it is from time immemorial served as a nurse for the locals and a defender.
Each day in the calendar
The main occupation of the Lithuanian agriculture has always beeneconomy. Work with land and livestock taught them to closely adhere to the calendar, which marked the beginning and the date of sowing and harvesting, and the first pasture grazing in early spring, and the timing shearing, and it is time harvesting homemade preserves. Each calendar Lithuanian tradition is still honored, and the inhabitants of the provinces and today mark the days, particularly highlighted in the calendar even ancestors.
One of the most important traditions of Lithuanians -mutual assistance in carrying out the important work called Cleanup. It is assumed here to help each other and to gather the whole village or the village to build a house, street improvement, harvest or laying roads.
On the nature and weather
With the advent of spring and the arrival of the heattraditional for Lithuania are trips to the nature, picnics and walks in the forests in the national parks. Residents cherish their country's nature and try not to hurt her divorced fire in the wrong place, or cutting trees. Rules of conduct in the conservation areas in Lithuania are very strict, and even pick flowers or to install tents in such places is strictly forbidden.
If the traveler is going to go fishing orto hunt in the country, he will have to get a special permit issued by the administration of the national park or a rural settlement. Violation of this law provided a very severe punishment.
Useful things
Smoking in public places, hotels,the restaurants of the country is prohibited by law. Violators will face serious penalties, which, according to the Lithuanian tradition, properly charged regulatory authorities. The same policy is being pursued in relation to persons who consume alcohol in public places.
Punctual Lithuanians are waiting for guests of the country comply with the promises and do not like to meet them late.
Crossing the border of private property is prohibited, and therefore it is important to pay attention to the signs that regulate the passage or passage.
Photo