A trip to Lithuania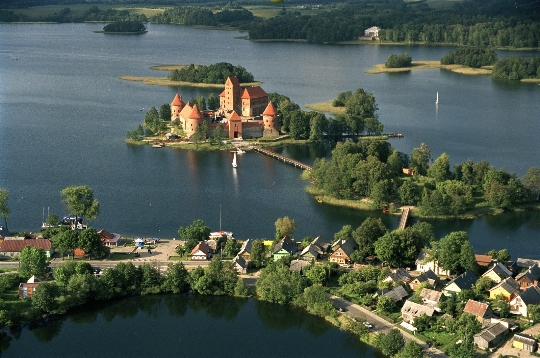 We decided to visit one of the Baltic states, but not yet able to make a choice? Then you will certainly enjoy a trip to Lithuania - a country where the Russian language sounds very often.
Public transport
You can move around the city in the countrybuses or trolleybuses. Transportation Work begins with five in the morning and ends around midnight traffic. Tickets can be purchased at the bus stop in a special ticket booth, and the driver, but in this case you are a bit overpaid. Fine fare "hare" is quite high. And if the average ticket costs 0.5 euros, the amount of the fine may reach as much as 50 euros. In addition to the normal transport in many cities of the country and also run bus.
Taxi
Machine checkered can take on one of the parking lots. But it is better to order over the phone, as this will help you save on travel. Moreover, it is also safer.
The price of the trip will depend on the total mileage(0.5-1.5 euros per kilometer). Before we get into the car, make sure the driver has a license and have a counter inside the car. Any taxi on the sides must be applied a service company logo and phone number.
Flights
Throughout the country there are three airportsInternational Class. The complex is located in Vilnius, Kaunas and Palanga. There is another major airport, which is located in Siauliai. Most often it is used for landing cargo aircraft, but sometimes here and take the charter flights.
The country's national carrier is AirLithuania. In addition to this airline can take a flight on the aircraft: Lithuanian Airlines; Aurela (private carrier); Lietuva. Besides the national airline company in Lithuania (Vilnius and Riga) Latvian based aircraft carrier - Air Baltic companies.
Railway transport
The railway network covers the entire territory ofcountries. Lithuanian train surprisingly clean. All cars have a comfortable padded seat and at least two sanitary rooms. Stop always declared, so the risk to drive the desired stop completely absent. You can buy tickets after boarding the train from the conductor or railway ticket office. But if you got on the train without a ticket, but your station has a ticket office, you will have to pay about 25% of its price.
Water transport
Since Lithuania - coastal state, andFerry is one of the components of its transport system. Ferries of the largest ports of the country, which is located in Klaipeda. From here you can get in Lübeck; Keel; Copenhagen; Aarhus; Gdansk.
The major carriers are Scandlines (local company) and Lisco (international representative). The fare depends on the season.
Photo