Airports Macedonia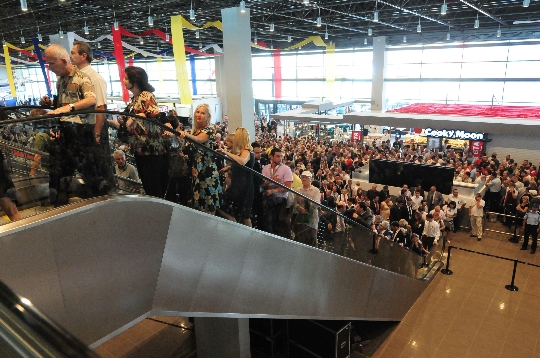 Macedonia is just beginning to unwind as thetourist destination in the Balkans, and because of regular direct flights from Russia to Skopje is no schedule of any airline. But the charter of the Moscow weekly landing at the airport of Macedonia on the shores of Lake Ohrid. Travel time - about three hours, and will take a little longer path with a change in Belgrade. There "Aeroflot" sent their planes on a regular basis.
Macedonia International Airport
The right to take international flights have two airport Macedonia - Ohrid and Metropolitan:
Alexander the Great Airport in Skopje was separated fromtown center 17 km. Transfer is carried out taxis and buses. In the first case will have to pay for the trip of about 1,500 denars, while public transport ticket will cost much cheaper. bus stop - at the exit of the terminal, the terminal station in the city - International Train Station. When choosing a taxi, it is better to make an order for the car belonging to the airport. They are equipped with taximeter.
The city where the airport is located the Apostle Paul,Located in the southwest of the country. Ohrid and the second largest international airport Macedonia bind 9 km asphalt highway, which are easily overcome by bus. Taxi - a convenient form of a transfer and his work does not depend on flight schedules.
metropolitan area
The first flights the airport Alexander the Great took in 1989 in Belgrade, then the capital of the former Yugoslavia. Then, at the airfield in Skopje began to emerge aircraft from Athens, Thessaloniki and Vienna.
scandal emerged in 2006 with Greece overrename the airport. Name of Alexander the Great both nations believe their own historical heritage, but because the Greeks protested that the Macedonians named their air harbor name of the great king and military leader.
"Vzletka" airport has a length of 3 km and can take heavy aircraft. The main airlines represented in the schedule Skopje airport today are:
Adria Airways, Air Serbia and Groatia Airlines operate flights to Ljubljana, Belgrade and Zagreb.
Turkish Airlines joined Macedonia airport with the biggest Turkish metropolis of Istanbul.
Swiss International Air Lines carry passengers in Geneva.
Flydubai aircraft flying to the United Arab Emirates.
Charter and seasonal flights to Skopje is connected to Düsseldorf, Zurich, Antalya and Split.
Details on the website - www.airports.com.mk.
Rest on the lakes
Macedonian lake of natural landmarkOrchid - a popular holiday destination and locals and foreign tourists. Last reconstruction of its runway was carried out in 2004, and now works on modernization of the passenger terminal and increase its capacity continues.
Main flight direction of this air harbor - Amsterdam, Zurich, Brussels, Basel, London and Moscow.
All flights and infrastructure features on the site - ohd.airports.com.mk.
Photo