Traditional cuisine of Macedonia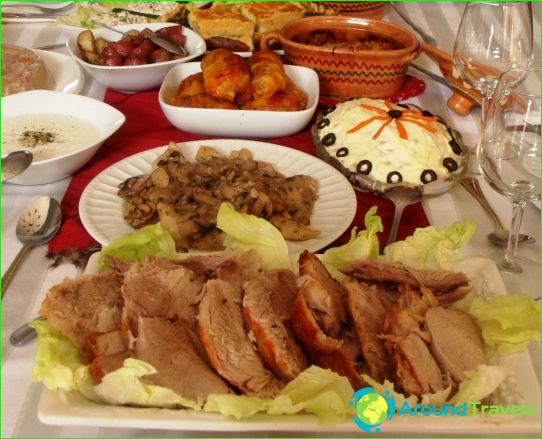 Food in Macedonia is characterized by the fact that the local establishments you can have lunch and dinner at very attractive prices (food prices here are among the lowest in Europe).
Food in Macedonia
Macedonian cuisine was influenced by Turkish, Greek, Serbian, Bulgarian culinary traditions. Diet Macedonians food consists of meat, vegetables, legumes, rice, fish and spices.
In Macedonia should taste fried in a panbeans (gravche on tavche); Ohrid trout; chopped roasted meat; puff pies with cheese, meat and other fillings (burek); potatoes, tomatoes and eggplant with meat layers (moussaka); salad baked, stewed sweet peppers and beans, and eggplant (ajvar); Macedonian cabbage rolls (sarma); meatballs (keftinya); beef stew (selskomeso); vegetable stew (zarzavat); trout with plums drizzled with vegetable oil sauce with garlic, herbs and beaten eggs (pastrmka); hot soup, which is based on kvass (chorba); pork or beef sausage with onion and spices (chebapi); stew with rice (dzhevyuch); sun-dried ham (prosciutto).
A sweet tooth should eat a variety ofjams, baklava, rice pudding ( "sutliyash") tulumba (a dessert made from unleavened dough in the form of tubes, fried until golden brown and sprinkled with sweet syrup), halva, jam, oil donuts ( "krofni"), croissants with honey and jam ( "kiflitse").
Where to eat in Macedonia? At your service:
cafes and restaurants with dishes of the Macedonian and other cuisines in the world;
snack bars and other fast food places.
Important: in the country there is a division of restaurants on the male and female (places for men - in the majority, and the most popular restaurant is female "Baghdad" in Skopje).
If you - a true foodie, you'll love Macedonian cuisine, characterized by the diversity and uniqueness: local cooks beautifully decorate your culinary creations.
Drinks in Macedonia
Popular Macedonians drinks - coffee, tea(Green, herbal and honey), mousses and fruit juices, salep (a thick sweet drink white cinnamon), ayran, rakija (local brandy, which is made from grapes, plums, peaches, apricots, pears), beer, wine.
The local brandy is white and yellow: do not mix the two varieties of the drink, and drink before or after raki beer or wine.
Gastronomic tour in Macedonia
If you - a connoisseur of wine, you should go togastronomic journey, during which you will visit the local wine farms. In this tour you will walk through the wine cellars and taste the different varieties of the Macedonian wines. In addition, you stroll to local restaurants, where you will be served dishes of seafood and fish, a great addition to that act white, red and pink Macedonian wines.
In Macedonia, you can enjoy hiking and mountainhiking, fishing or take a rafting (rafting), relax on the lakes Prespa and Ohrid, look at the ancient monasteries, original taste the Macedonian cuisine.
Photo Macedonia national dishes