Kitchen Macedonia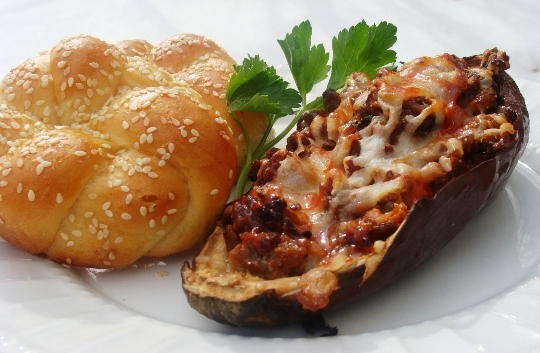 Kitchen Macedonia has undergone the influence of culinary schools in Greece, Bulgaria, Turkey and Serbia: in its menu includes mostly simple and tasty dishes based on meat, vegetables and spices.
National cuisine of Macedonia
In Macedonia, I like to cook the meat, for example, a dish"Scar" - grilled meat, and released several varieties of this dish if it is cooked with chicken, it gets the name "pileshko" pork - "pig" of the lamb - "yagneshko". In addition, it is worth to try the chicken in the sauce clotted cream or maid, Macedonian cabbage rolls ( "sarma"), various types of "kebab", a puff pie with meat, "chebapi" (sausage made of pork or beef with spices and onions). As a side dish often serves noodles, fried potatoes, stewed vegetables. Also on the table is always a fresh herbs, cheese (in honor cheese), bread.
For those interested in the Macedonian desserts, it is worthallow yourself to enjoy the taste of donuts with cinnamon, honey and sugar syrup ( "Loukoumades"), a sweet rice pudding ( "sutliyash"), puff quiche and various fillings ( "Bugac"), mini-muffins in sugar syrup ( "urmashitsa ").
Popular Macedonian cuisine:
"Ajvar" (salad, which is based on tomatoes, beans, paprika, salt, garlic, sunflower oil);
"Zarzavat" (stew based on vegetables);
"Keftinya" (a dish of meatballs, which served vegetable garnish);
"Muchkalitsa" (dish made of vegetables and pork);
"Rural meso" (beef stew in peasant);
"Pastrmka" (dish of the Ohrid trout, which is baked, pre-watering of its garlic sauce, whipped eggs, vegetable oil and herbs).
Where to try the Macedonian cuisine?
Thanks to the neighborhood with Turkey in Macedonia can befind cafes and restaurants where you will be served meat cutlets, kebabs, meat-legged. Refreshments in Skopje can be in "Makedonska Kula" (guests are treated to brandy and Macedonian dishes such tavče gravče - beans, fried in spices in a pan) or "Amigos" (this restaurant specializes in preparing Macedonian dishes, and enjoy an economical vacation here due to the reasonable prices travelers). You may want to leave a tip of 10% of the total.
Cooking classes in Macedonia
For those interested in the culinary delicacies of Macedoniaoffer to walk to local restaurants - some of them hold master classes on cooking dishes from fish and seafood, wine tasting which will be accompanied by the consumption of white, red or pink Macedonian wines.
Arrival in Macedonia is to hold podgadatFestival "Wine Skop" (October, Skopje) - winemakers come here from different parts of Europe, and therefore, here you can taste different wines and various snacks to them. In addition, guests at the festival will be waiting for performances by music groups and young visitors - contests and exciting games.
Photo