Wines of Macedonia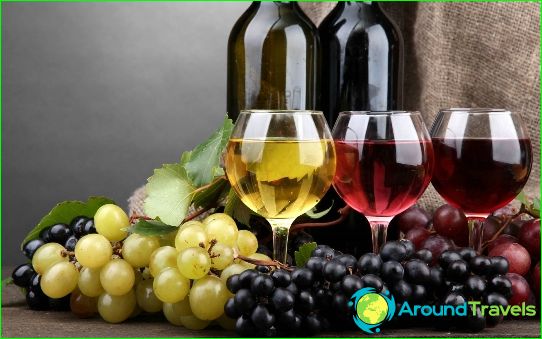 Mediterranean latitude and consequencesRoman influence - the main reasons that allowed Macedonia to become one of the wine of the European powers. Despite the many historical and political turmoil, the local winemakers produce a decent product, which tend to taste wine tours participants. Today Macedonia wine - it's more internal than an export product, but the pace of development of the industry suggest that a situation where they know about the whole world - not far off.
Grades and figures
The largest volume of all the wine produced inMacedonia gives Povardare region. It is located not far from the border with Greece. There is bottled each year 85% of Macedonian wines and a variety of climatic conditions of the region, due to the difficult terrain, for growing a variety of grapes. Winemakers Povardarya vine gives berry varieties Merlot and Chardonnay, Cabernet and Riesling. Red grape varieties predominate over the white and red wines, and because in Macedonia produced in much larger quantities.
Almost a hundred wineries and factories inMacedonia offer their products to fans of local wines. The wine tours around the country sent lovers of active cognitive rest, which leave every day should be rich and varied.
In traveling guests get acquainted with the wines,produced from local varieties such as Kratoshiya, Crater and Grenache. Of these blended wines that have received special recognition in the Old World. "Zhinavka" and "Vruzhitsa" deemed authentic Macedonian product, which is not ashamed to bring a souvenir colleagues or friends.
Macedonian wine tradition
The country has an ancient culture of consumptionwine, the essence of which is the presence of good company. In this case, an excuse for a drink, this is not required and the Macedonians. For snacks on the tables of locals present roasted geese, fruit pies homemade, steamed vegetables and lamb chops cooked with aromatic herbs.
Sitting can last long enoughaccompanied by songs and dances, stories and memories. Excellent quality Macedonian wine allows safely support the company, without fear of unpleasant consequences.
Photo