Malaysia Airports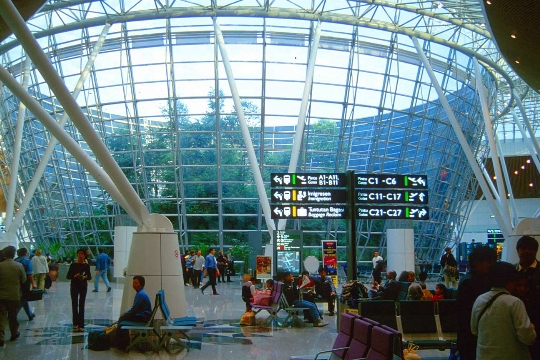 This is a state in the South East Asia, in contrast to thehabitual Thailand, not too mastered Russian travelers. Perhaps because in Malaysia Airports is no direct regular flights from Moscow? Those who are not afraid of difficulties, fly to Kuala Lumpur and the Malaysian resort docks.
Airlines from China Air China will bring touriststhe capital of Malaysia through Beijing, Emirates Airlines - via Dubai, the Etihad flies with a change in Abu Dhabi and Qatar Airways - to private capital. There are good flight options via Amsterdam on KLM wings and via Paris - Air France. By the way, from European carriers in a southeasterly direction often have special offers and reasonable prices. Travel time taking into account connections and the selected route will take from 13 hours to a day.
International Airports Malaysia
More than a dozen Malaysian airports provide reliable communication in the country. International certificate have several air harbors, the most popular of which is traditionally considered to be:
Airport Kuala Lumpur, the country's largest. The city where the airport is located - one of the modern eastern metropolises and popular center of modern tourism. Details on the work of the Malaysian capital's airport on the site - www.klia.com.my.
Air port on the island of Langkawi - pointdestination for those who choose to relax on Malaysian beaches. The airport is half an hour away from Kuah Town and regular international flights here is scheduled airlines from Singapore.
Malaysia The main airport on the island of Borneo- This Kota Kinabalu. In Terminal 1, planes land from the capital and from the scheduled flights from neighboring countries, and the second - charter and low cost carriers. Transfer to the city by local taxi, which overcome the 8 kilometers in a few minutes.
metropolitan area
Malaysian capital airport has twoterminals, of which the principal receives the bulk of the international flights and the other is responsible for the cost of transportation. The terminals are connected by monorail.
Metropolitan Air Harbor serves annually to 50 mln. Passengers, and its field of aircrafts land regularly several dozen airlines around the world.
For the European direction meet Air France,KLM, British Airways and Lufthansa, and Turkey is represented by Turkish Airlines. The neighboring countries are flying China Southern Airlines aircraft, Air China, Cathay Pacific, Singapore Airlines, Thai Airways, Vietnam Airlines and Bangkok Airways.
The main local airline Malaysia Airlines operates scheduled flights to Australia, New Zealand, India, China, Cambodia and even in several dozen places on the world map.
Transfer to the city carried onRailway Express, which overcome the 60 km in less than half an hour. Taxis operate on an advance payment on the counter in the arrivals area, with night-time tariffs for their services are increasing.
Photo