Kuala Lumpur for 2 days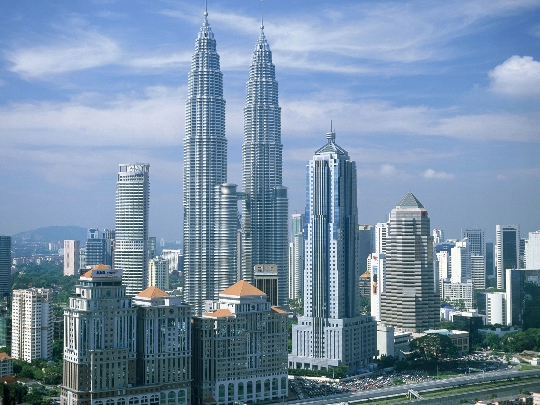 Located in the zone of equatorial climateMalaysia's capital - the city where the warm and comfortable all year round. Despite frequent rainfall, it is always full of tourists, and all the major attractions of Kuala Lumpur for 2 days may well submit to the inquisitive traveler.
Moorish motifs
In the capital of Malaysia mixed many styles andarchitectural direction. Among the buildings of the old town in particular stands out the ensemble, made more than a hundred years ago in the Moorish style. Worthy of attention and is sure to turn a photo shoot:
Sultan Abdul Samad Building, erected in Independence Square, the former in the good old colonial days of golf a favorite British cricket.
City Theatre, charming his magnificent grace.
The old railway station on the street Sultan Hisamuddina built in front of the headquarters of the same department.
Jamek Mosque - one of the most beautiful in Southeast Asia.
National Textile Museum, which you can visit to learn all about the production of exquisite silk and become the happy owner of the priceless gift.
Star sectional
The eight-pointed Islamic star - a figure thatforms in the context of each of the Petronas Twin Towers, who were at the end of the last century, the city symbol. Arriving in Kuala Lumpur for 2 days, the guests try to get to the observation deck, where the capital of Malaysia is visible at a glance. Tower soars up to 88 floors, and inside the skyscrapers are numerous exhibition halls and an art gallery.
No less interesting architectural solutions,used in the construction of other well-known buildings in Kuala Lumpur. For example, the building of one of the banks like a Malay dagger, and the Palace of Culture and the library are in the form of Malay caps. Foundation supporting pilgrims visiting Mecca, located in a house whose contours repeat the form of Malay drum.
Everything in the park!
In the capital of Malaysia, there are manyparks and gardens, each of which is worthy of a separate visit. The "Kuala Lumpur for 2 days" is unlikely to visit each of them, but the Central Park lake is sure to be included in the route. It is possible to take a walk in the Garden of orchids and enjoy the thousands of tropical butterflies, get acquainted with magnificent representatives of the ornithological world and enjoy boating on the lake with marvelous lotus. For younger tourists in the park opened a lot of attractions and playgrounds.
Photo