Water parks in Kuala Lumpur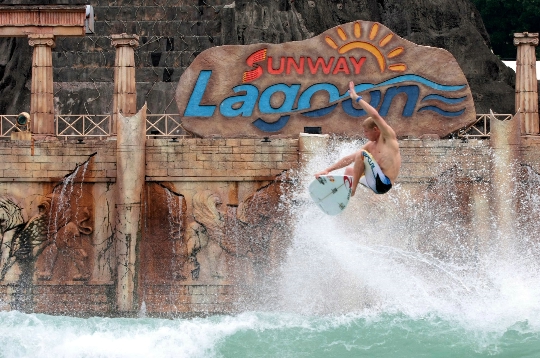 Water park - one of the main places that youYou want to pay attention to vacation in Kuala Lumpur? Then you will be pleasantly surprised that the local water park - it is part of a complex with hotels, shopping centers and even an ice rink.
Water parks in Kuala Lumpur
Waterpark "Sunway Lagoon" pleases visitors:
an artificial beach with real sand (here were imported 6,000 tons of sand);
quiet area with rides and slowly flowing channels;
area with high-speed and extreme descents ( "Waterslides"), as well as the site for surfing;
restaurant, which is famous for a variety of menu dishes at good price.
Important: both sides of the water park connected by a suspended rope bridge, which sways over the lake, and on the nearby shore, guests will be able to see the volcano, spewing lava! It is worth noting that in the water park, there are waterfalls, pools, especially the wave (wave height can be up to 3 m) and for the youngest visitors, as well as the point where you can rent equipment for water sports and outdoor activities.
Adult tickets cost 145 ringgit, and discount tickets (they are sold to pensioners and children up to 11 years) - 115 ringgit.
Do not be limited to visiting onlywater park, then you can look into the horror with the ghosts of the Park house and a room for fear; in Wildlife Park (you'll see about 150 animals, some of which can feed); in the area of ​​the Wild West (playing cowboys + riding on different rides).
Water Activities in Kuala Lumpur
If you stay at the "Fraser Place Kuala Lumpur" or "Hotel Maya Kuala Lumpur", then you will be able to indulge yourself every day water treatments, as are swimming pools in these hotels.
On vacation in Kuala Lumpur is to visitaquarium Aquaria KLCC (children - 28 ringgit, adults age 12 - 38 ringgit) - in this small underwater kingdom can meet with 5,000 tropical fish, as well as 20,000 sea creatures, such as turtles and tiger sharks (they can be seen in 90 glass-meter tunnel). In addition, wishing immediately provide an opportunity to feed the fish and even swim with the sharks. It is worth noting that on the territory of Aquaria KLCC settled area with a small aquarium - there live sea creatures, which can be touched without taking them out of the water at the same time.
Speaking of beach lovers, theyshould look to the beaches of Langkawi - Cenang (infrastructure + water sports + nice views) and Tengah (quiet and clean sea + the ideal setting for family and children's activities).
But for diving it is best to go onTioman Island - there you will be able to visit the underwater caves, meet with gorgonovymi corals, Napoleon fish, puffer fish, fish, angel, triggerfish, stingrays, stingray and other.
Photo