Malaysia drink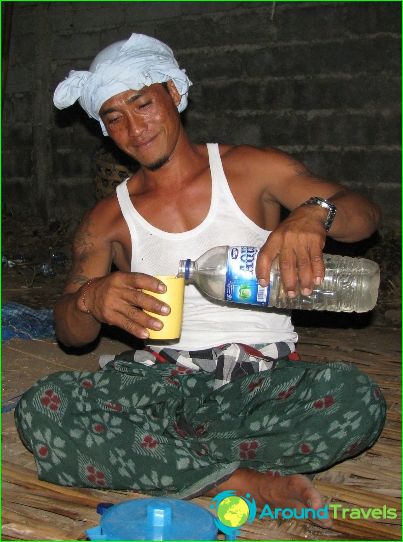 For lovers of novelty Malaysia - a paradise. Where you can find excellent beaches on the background of pristine nature and modern metropolis and great conditions for diving, and the charm of a motley colorful oriental markets. Gourmet undoubted interest Malaysia drinks and original dishes of its cuisine, which blended all the best traditions of Southeast Asia.
Alcohol Malaysia
The country is predominantly Muslim, Malaysiarestricts the importation of alcohol into their territory stricter customs regulations. Every traveler is not entitled to carry a liter and a liter of spirits - liqueurs and wines, including dry. Out of the country as a souvenir can be any alcohol Malaysia in reasonable quantities. Prices of alcoholic beverages in the country vary depending on the region. The cheapest alcohol in Langkawi, where a special economic zone. Liter bottle of "Martini" it sold for $ 4-5, liquor, "Bailey's" worth no more than $ 10 (the price of mid-2014). In Penang, everything is much more expensive and can of beer can pull $ 5, but because at this resort the people prefer to drink the local coconut rum. It is a low-alcohol, 1.5 liters of it are no more than $ 2, and natural ingredients help to transfer heat with more comfort.
Malaysia's national drink
Malaysians have long made the traditionalalcohol, which is certainly worth a try. Malaysia called national drink - TUAC, and its production has one special feature. It is artisanal or home-based manufacturing methods. TUAC main supplier to the local market - the natives and the population engaged in agriculture. The main types of beverage:
Palm TUAC - light drink from the juice of palm trees,Fortress is less than five degrees. It is cooked, leaving the container with the juice to ferment in the heat for a couple of days, after which the beer Palma is considered ready. Often it is subjected to distillation for the production of "strong TSAC" which can "count" is not less than 30% alcohol.
Rice TUAC - a drink made from sticky rice varieties, strength of not less than 12 degrees. It is often flavored with herbs and spices.
Alcoholic beverages Malaysia
Among other things, alcohol in the country is greatsale of wine production in Australia. Firstly, they have a quite decent quality, and secondly, - an attractive price. Alcoholic beverages Malaysia except TUAC presented rice and traditional beers and many cocktails.
Photo