Resorts Malaysia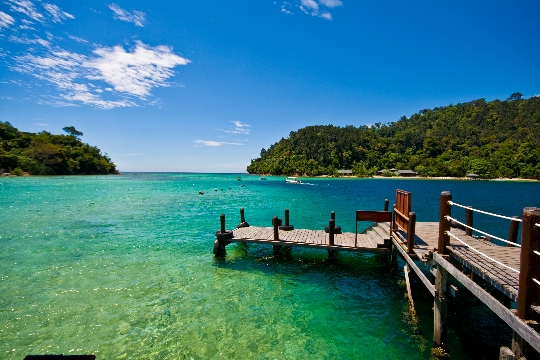 Malaysia's capital Kuala Lumpur is often adestination docking flight, delivering tourists to the various resorts in South East Asia and Australia. But the country should look in more detail and not to limit the stay in it only a few hours of transit at the airport. Beach resorts in Malaysia and its rich nature give a hundred points ahead of many popular holiday destinations Russian traveler, and therefore is disregarded by some inconveniences long flight and a change of a few time zones away on holiday.
Always in the TOP
Among the huge variety of places to stay inMalaysia Russian travelers prefer island. Untouched nature, ideal beauty scenery, warm sea and inspiring respect Hotel Fund - a good reason to go to a long-awaited vacation to Malaysia resorts:
Langkawi archipelago - it's almost a hundred islands,among which are the only four inhabited. The main resorts are spread out on the island of Langkawi, which is an interesting feature - a complete lack of public transport. It is accepted to rent scooters and sent to distant beaches where you can sunbathe in solitude and enjoy the company of the ocean. Hotels in Malaysia at this resort are comfortable and not too cheap, but to find a room at a reasonable price, you can, if you book tours are not in the highest season.
Penang Island fans prefer the roughnight life, because the number of clubs and discos the tens here. Among other entertainment at this resort Malaysia popular horseback riding, boating and varied shopping, in which the main thing - do not be tempted to buy everything at once. On the northern coast of the island - area of ​​luxury hotels, but the more affordable hotels are located on the east and west of Penang.
At Redang Resort for diving and flyingsnorkelling, because the surrounding waters are quite realistic and meet sharks and turtles, and sea urchins, and a wide variety of fish. Privacy and some isolation from the larger world of the Malaysian resort make it especially popular with newlyweds, who wish to spend their honeymoon in a perfect romantic atmosphere.
Far from the sea peninsula issued Lumut, whereI spread one of the most comfortable resorts of Malaysia. Beaches on the Andaman Sea is particularly clean, and in a city park you can walk in the evening, admiring the breathtaking sunset.
Photo