Ocean Maldives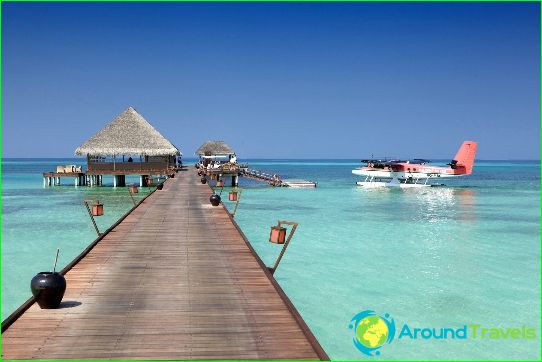 Republic of Maldives is nothingnothing but a group of atolls - ring covering marine lagoon. The archipelago is located south of India, the Maldives and the sea - is grand and vast Indian Ocean, which merges here with the sky, making it almost invisible horizon.
Paradise holiday
What Sea washes the Maldives? This question is asked by one of the first lucky owners of tours to luxury Maldivian resorts. Indian Ocean - is the third largest among the world's oceans and that its waters made beach holiday on the islands so wonderful and memorable. Main visitors of the local resorts can be divided into three groups:
Newlyweds who choose to spend their honeymoonroyally. Seaside Maldives, white sand beaches and the bright sun, complete with magnificent hotels and the ability to be alone together on the whole island - strong arguments in favor of the choice of this tourist destination.
Divers, for which the first and onlyplace - the rich underwater world of the Indian Ocean in the area of ​​the Maldives. Other aspects of their little worried, and dive at the local resorts are possible in any season.
Fans of high-class facilities and perfect service, for which the issue price does not matter.
Ocean dream
Indian ocean near MaldivesIt could be described as perfect. It has beautiful color, the water is clean and clear, the underwater world of amazing variety, and the temperature of the water makes swimming enjoyable and comfortable. Thermometer in its waters at the local resorts does not fall below 26 degrees throughout the year, from what people dropped, and the divers are in raptures.
The question of what the sea in the Maldives, usuallyperplexed, and those who love to go out on yachts. The archipelago is possible even to stay on the yacht and its lease will not exceed the cost of a good room in a local hotel. This type of holiday lets see a lot of new islands and get a real ocean experience.
The Indian Ocean is rich in a wide variety ofrepresentatives of fauna. Here you can find not only sea turtles and dolphins and even blue whales and sperm whales. In the Maldives the ocean inhabited by plankton, some members of which can glow at night, causing waves become especially picturesque. Dangerous animals to land on the islands there, and whale sharks that can swim up to the banks at a fairly close distance, feed only on plankton and not pose a threat to swimmers.
Maldives - promo video
Maldives Coast Photos