to Male Airport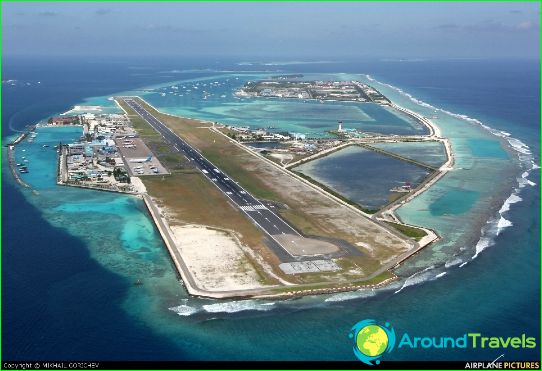 The main airport for travelers in the followingMaldives is located in Male. The airport is located on a small island of Hulhule, its runway just takes up the entire length of the island - from water to water. The airport is located just 2 km from the neighboring island-Maldivian capital Malé Island.
History
Airport Male was launched in October 1960. His first runway was made of sheet steel and had a length of a little more than 900 meters. Four years later it was decided to replace it with asphalt.
Interestingly, the removal of the old runway was carried out on a competitive basis - 4 groups of local residents removed its speed, and the winner will get 1000 Rufio.
Official opening of the new runway was in April 1966.
In 1981, the airport received international status and became officially known - Male International Airport.
In summer 2011, the airport was given a new name - Airport. Ibrahim Nasir. Ibrahim Nasir was the second president of the Maldives and was the initiator of the construction of the airport.
services
Male Airport has 2 terminals, the first ofwhich is responsible for international flights and the other for domestic. In the terminals, passengers will be able to get only the most necessary services, without any frills. Mail, bank branches, ATMs, pharmacy and medical center.
Also on the territory of the terminal offers luggage storage, the cost - $ 3 per day. Of course, can not do without the Internet.
Also, passengers can visit the shops duty-free, cafes and restaurants.
For Business Class passengers have a separate waiting room Superior.
Control
To pass the passport control is necessaryfill out a special card, which is attached to the passport, the immigration service. The departure from the country of her show, so you need to carefully take this.
Very attentive to the baggage check,so you need to be prepared for a full inspection in the case of the following prohibited items: alcohol, drugs, weapons, pornography, figures and statues.
Transport
Maldives - fully water world, so the main transportation here is water or air (seaplanes).
Every 10 minutes from the airport a ferry that $ 1 will bring passengers to the neighboring island.
Photos of Male Airport