Currency in the Maldives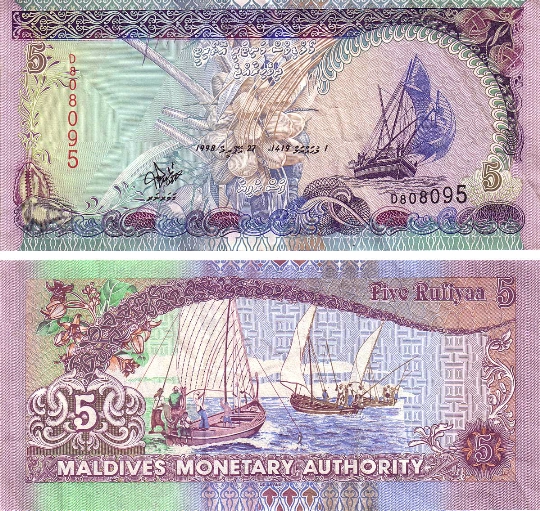 What is the currency in Maldives? The national currency of the country - Maldives Rufiyaa. One Rufiyaa - 100 GEL. Money to address the Maldives in the form of coins and banknotes. In everyday bills - 2, 5, 10, 20, 50, 100 and 500 Rufio, coins - 1, 2, 5, 10, 25 and 50 GEL, but the state permits and pay in US dollars.
Import of currency in the Maldives
In many countries, there are some limitationson the import of foreign or local currency, but the Maldives do not apply to them. There are no any restrictions on the importation or exportation of currency, so in this respect we need not worry here and take any amount of currency.
Exchange
Currency exchange is carried out on the Maldivesofficially fixed rate at any bank or airport. Bank branches are open from 9 to 13:00, Saturday to Thursday. Friday in Islamic countries is considered to be the output. As for the smaller islands (tourism): it is advised to pay small bills, putting a major you simply will not find. The course is there - the same as everywhere.
Prices and tips
Prices in the Maldives - is not the lowest. In Male ', for example, can enjoy a $ 35 per day, but on the more expensive resorts small number will cost you a minimum of $ 50 per day. On average, the price of hotel rooms - from $ 150. Food prices here - above European. What's interesting: the meat in the Maldives is served only in high-end hotels, local meat dishes just are not used, they are prepared them only on holidays. Tip. Officially, tipping in the state is not accepted, but if you - modern European, and for you it is important to thank the waiter, you can leave the employee personnel dollar. In expensive restaurants and hotels tip, though, it is automatically included in the bill.
Despite the fact that the national currency - the Rufiyaa,It has the advantage of the US dollar. In this case, you might say, the exchange becomes a need, just enough to have the desired stock of dollars or any other currency in the world. And this is partly true. In fact, the only place where the tourist will pay rufiyami - the capital, Malé Island. But if you do exchange money - no problem, you can buy the currency back in the bank or exchange office at the airport before departure.
Money in the Maldives - a cult. It is expensive, luxurious and, at times, overly pretentious. The local holiday - it is a real luxury! Not so important, what currency to take to the Maldives you choose, you can always buy rufii. Travel wisely, sparingly and profitable!
Photo