Diving in the Maldives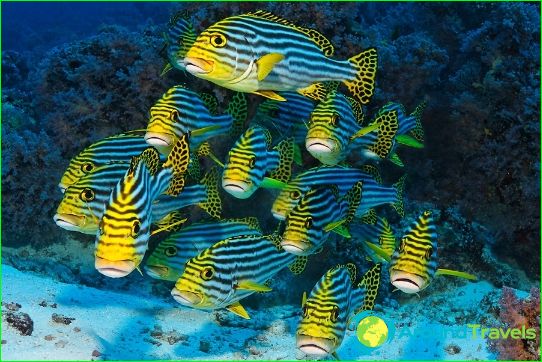 Diving in the Maldives, as well as a beach holiday, organized perfectly. Maldives are perfect for diving. Any reef that you choose to explore, will open before you the amazing underwater world.
House Reef
Literally translated as "house reef". This place certainly has on each island of the archipelago. Here you can always catch a couple of moray eels, look at the fish, scorpion, resting on the surface of the reef and, of course, huge flocks of colorful guppies, butterfly fish, fish-surgeons and angelfish.
Barracuda Giri
The dive site is the marine mount,located at the foot of North Male Atoll. Variety atoll renders it one of the best places to dive, if we talk about the territory velvety reef. Barracuda Giri like chipped canyon, and the northern part of the vertex chosen soft corals.
As it is clear from the name of the town, the mainrepresentatives of the local fauna - barracuda. But not only they like atoll. Here freely feel belokonechnye reef sharks, sea pike and tuna.
Blue Lagoon
Great dive site, which is located atreef, originating near the island of Girifushi and ending in North Male. Both sides of the creek have a relatively small depth and a very weak current. The underwater landscape is decorated with a lot of coral gardens, forming a unique alley and plateaus.
Coral garden
Coral gardens can be found not far from the sameReef. It is worth noting two dive zones. The first - the so-called mound of star coral, which has become home to numerous acne stingreya, rock cod and colorful guppies.
Reef, approaching Girifushi forms completelyprotected stone bowl, coral vegetation which is just amazing. Graceful corals have built a completely unique composition: some resemble huge fairytale castles, and others - giant mushrooms.
Lions head
One of the most famous dive sites, where you canwatch the fish hunting for sharks. Such an unusual place got the name thanks to a huge part of the splinter from the reef. Visually, it is very similar to the head of the king of beasts. Lions Head belongs to the home reef of North Male Atoll.
Grey reef sharks - the main local inhabitantsplaces. When diving, you can simultaneously see several distinct species, but all of a sudden from the depth can go up a small flock, numbering up to 15 individuals.
Photo