How to fly from Male to Moscow?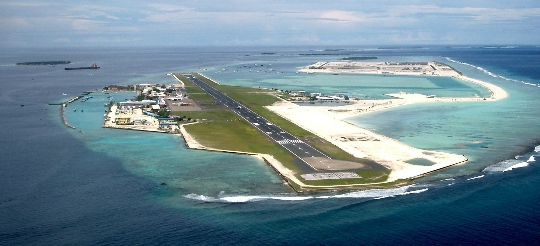 In Male you could explore the QuayBoduthakurufaanu Magu, explore the Grand Friday Mosque, Chapel Honey Ziyarat and Palace Muliage, see Sultan decorations and costumes, ancient statues, weapons and manuscripts at the National Museum, surf, spend time on the beach Artificial, go to the "Whale submarine", to visit the fish market and in the park Jumhury-Maidan? And now you need to get acquainted with the nuances relating to the return flight?
How to fly from Male to Moscow (direct flight)?
The Russian capital and the capital of the Maldiveslocated at a distance of over 6,200 km, you will be able to overcome in about 9.5 hours. But, for example, "Aeroflot" take you to the "Sheremetyevo" for 8 hours 55 minutes, and with "Transaero" - to "Vnukovo" for 8 hours and 40 minutes.
Are you interested in buying tickets Male-Moscow? Bear in mind that the cheapest direct flight cost from 22,000 rubles, and a connecting - from 16800 rubles.
Male-Moscow flight with transfers
Transplant in this direction are being made, as a rule, in Doha, Colombo, Abu Dhabi, Istanbul and other cities (such flights took 11-20 hours).
"Qatar Airways" gives travelersMoscow with a connection in Doha for 11 hours, and in Doha and Milan - for 19.5 hours, "Srilankan Airlines" - in Dubai and Colombo in 21 hours, "Swiss" - in Zurich and Geneva, 1 day 4:00, "Korean Airlines "- in Bangkok and Colombo for 1 day, 2 hours, and in Seoul - for 1 day 1 hour," Emirates "- in Dubai for 14 hours, and in Dubai and Warsaw - for 18.5 hours," China Southern Airlines " - in Guangzhou for 21 hours.
Selection of the airline
In Moscow fly Airbus A 330-300, Boeing 777, Airbus A 320 and other aircraft, owned by the following carriers: "S7"; "KLM"; "Aeroflot"; "QatarAirways".
Fly to Moscow offers of "Ibrahim Nasir" Airport (MLE) - he is on Hulhule Island, 2 km from Malé. The most convenient way to get here by ferry, hit the road every 15-20 minutes.
At the airport, you can use the camerastorage and ATMs, get online, look to the bank or post office, to get drugs at the pharmacy and necessary goods and souvenirs in the duty-free-shop, to visit the room of mother and child (free of charge) and, if necessary, and the prayer hall (it is worth considering that here are only allowed Muslim believers).
What to do in an airplane?
The flight is a good sleep and to think,who bestow souvenirs purchased in Male, in the form of dried, dried, canned fish, coconut oil and sausages, lacquered wooden utensils, ornaments shark teeth or corals, mats woven from coconut fiber, diving equipment, national dresses.
Photo