Traditional cuisine in the Maldives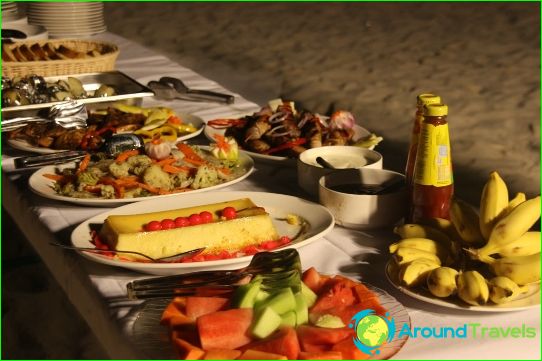 Catering to tourists in the Maldives - is not a problem: in resort hotels you will be fed a variety of international cuisine, including eastern and Indian under the "buffet". Since many hotels have several restaurants, then their need for food will satisfy any, even the most demanding tourists.
It's worth noting that the present Maldivian cuisinea little different from what you will be served at the hotel under the guise of national dishes - for traditional Maldivian cuisine is to go to the cafe, which are in Male 'or island village.
Food in the Maldives
Maldivian cuisine combines culinarytraditions of India and the Arab countries. Diet Maldivians make seafood (baked, fried, boiled) rice, fish, spicy seasonings and spices. As for meat, they eat it very often, and poultry and does only on holidays.
In the Maldives, it is worth trying with smoked fishcoconuts and onions (mas huni), baked fish drizzled with chili sauce (fihunu mas), fish pie with spices (kulhi borkibaa), fish balls (gulha).
And fans of sweets will be delighted by baking, fruit salads, desserts and fruit rice, various puddings, sweet dishes, which are based on coconuts.
Where to eat in the Maldives? At your service:
cafes and restaurants where you can taste local food;
European cuisine;
"Hotaa" (small snack bars where you can taste delicious and inexpensive meals).
Drinks in the Maldives
Popular drinks in the Maldives - tea (its complement lots of milk and sugar), coffee, juice, paa (sweet toddy), cocktails.
Try alcoholic beverages (localalcoholic beverage was not there - only imported) in the Maldives you can only in your room or at the hotel restaurant (in other places drinking alcohol is forbidden).
Gastronomic tour to the Maldives
To try the exciting dishes in the Maldives,here it is worth visiting on Eid, Maludh and other festivals. And you can take part in special evening under the name "Maldives Night" (they are organized at some resorts) - here you will be treated to traditional local food.
Food lovers can stay in 5-star hotel"Anantara Kihavah" - here you can go on a real culinary journey, all thanks to the fact that the main restaurant is a complex located above and below the water, between heaven and earth, and offers a start to a meal at any of the 4 rooms in which are represented different dishes, especially kitchens. For example, in the dining seafood restaurant, which is under the water, you can taste delicious dishes and taste different wines, watching the sea creatures - lion-fish, clown-fish, parrot-fish.
Get pleasure from a holiday in the Maldives you can not only from sunbathing, fishing, diving and other entertainment, but also on the local cuisine.
Photos of Maldives national dishes